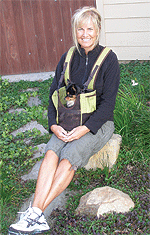 (Photo courtesy of Anna G. and Bella)
The Kangaroo Pouch is ergonomically shaped to fit your front contour with netted mesh in the back to let your heat evaporate. The strap comfortably crosses your back allowing optimum adjustment. The bottom is firm with a removable and washable pad. It also give your pet a full view in all directions. Just check out how light it is!
Dimensions (Length x Depth x Height) / Weight

:
XS - 10.5" L x 7" D x 10" H / 13 oz
Small - 12.5" L x 8.5" D x 11.5" H / 1 lb.
Medium - 14.5" L x 10" W x 13" H / 1 lb. 8 oz

Surface Material: Cordura® in Beige with Plaid mesh and Cordura® royal blue with blue mesh with stripes

Lining and Mesh: Khaki or black

Production: Made in USA
Accessories (detachable parts):

Washable floor pad and panel:
Inside security leash (1 oz.)
Front support plastic beam

Additional Features:

A dense smooth mesh for supportive screen
A netted back mesh allows evaporation of body heat
Adjustable and padded shoulder and back strap
Adjustable front extension strap to level the carrier for your pet's comfort
Inside leash to secure your pet

Maintenance: Cold water hand wash inside out, detachable floor pad is machine washable with cold water
1 Review
I bought this carrier about 3 months ago and this is the best thing ever. I have a large 15 lb shzu and I take him everywhere in this. It is comfortable for him. He can look out in it. He can turn around and even lay down and sleep in it. I would recommend this to everyone. It is very sturdy abd hopefully it will last his lifetime.
Customers Also Viewed