The bag was first made for a Cocker Spaniel but the customer ends up getting a larger size. Please see the details below.
Base Model and Size: Tote-o-Pet - medium size
Modifications:
0) Hand Cut Fee:
1) Materials & Trims: Black color Balistic Nylon
2) Lining & Mesh: Grey interior, side cover in black; Black netted mesh
3) Increase base - 18" base length (the longer middle length is 20" ) x 11"W x 11.75"H)
4) Add front strap and the back padding similar to that used in the Pouch-o-pet
5) A short handle across the roof
6) Interior floor padding of 1" with fleece bottom
7) keep side pocket, both with zipper closures
8) NO front pocket
9) Add reflective strip along the front pipping and on strap (on back of the body)
10) No support stud on the bottom (avoid scratching the big bike)
11) Waist strap with minimum of 40" adjustable to minimum 54"
12) Enlarge top opening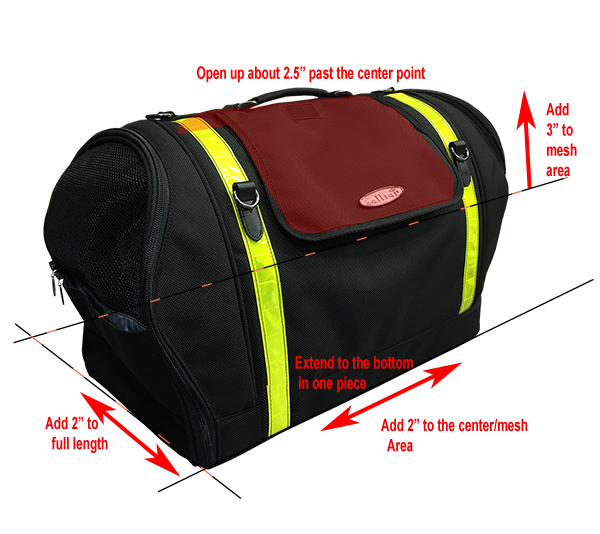 ---Severus "flew" over fence
Date Completed: July 2016
The first bag was made smaller.&nbsp:&nbsp:As the customer is in U.K., we agree to sell the smaller carrier in our site as Special for him. Changes made to the final carrier are listed on the right.
Customers Also Viewed