Wheaton Terrier Moe is taking a lap inside his new Celltei
(photo courtesy of Samuel K.)
"This is my house, I am not coming out..."
(photo courtesy of Janine J.)
"..and me and my "house" fits the space underneath the airplane seat perfectly"
(photo courtesy of Janine J.)

Didn't see what you like?
Add $80 Hand Cut Fee and start customizing
Strong and Sturdy Backpack for Medium to Large Pets
Solid as a luggage, the large size Celltei® Outdoor Backpack-o-Pet is sometimes used as a mobile cage. It is designed to offer a stable interior so that your pet can move around at will. Structured with mulitple detachable layers of support, it is the most versatile pet carrier design for all your travel needs including airline travel, biking and hiking or mass transit travel. Leave it open on the floor, your pet may use it as a sleeping den!
PRODUCT DETAILS
Dimenion
(W x D x H):
20 x 11.5 x 12.5 inches
(50.8 x 29.2 x 31.6 cm)
Weight:
5.8 lb. (2.6 kg)
Surface Fabric:
Cordura® 1000-Denier Nylon
Lining:
Black color Nylon
Mesh Type:
Woven Net Type
Trims:
Black color; reflective tab in silver/white color
Detachable Parts Included:

One waterproof floor tray set:

Pad with 1/4" thick foam inside lining (2 oz.)
Support Board (6 oz.)
Waterproof tray with 1" rim (4 oz.)

One shoulder strap with cushioned pad (3 oz.)
One padded backpack strap with chest and waist strap (8 oz.)
One inside security leash (1.5 oz.)
Two roof support panels (6 oz.)
Two hard corrugated plastic support frames (5 oz.)

Manufactured
Made in USA (Brooklyn, NY)
Patented Design
US Patent No.7,210,426.
Material Sources
Most materials are sourced from US suppliers. Countries of Origin include USA, Canada, Taiwan, China, Turkey and India.
Warranty
One year warranty that covers all manufactured parts and pieces but NOT any damage inflicted by the pets, such as tearing, staining or chewing and, wear and tear from normal use.
Cleaning

Use COLD WATER ONLY
Hand wash
Air dry; do not use dryer
Many thanks to customers who have posted videos online. THANK YOU!
Thank you for your pictures & comments!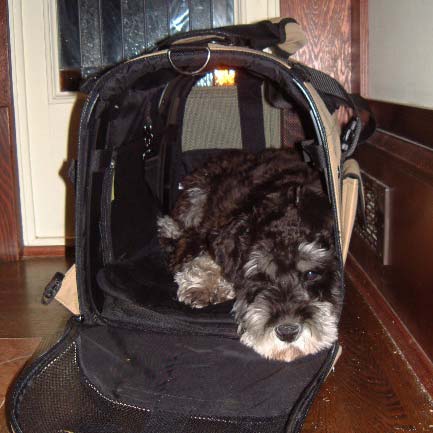 :
Patiently waiting
My schnauzer loves the carrier very much and would patiently wait inside hoping for another trip outside
... Angela G. (Jan. 2005)"
Customers Also Viewed