How to Choose Bird Design
First Bird Tray
What is Macaw
First Pak-o-Bird
Birdie Pouch
Birdie GOGO
Yes You Can!
Birds are very sensitive and treasure their tail feather greatly. Generally, the bird's tail should be above the floor and away from the back wall and its head is not too close to the mesh. Therefore, the bird's measurements A to D (displayed on picture) should be shorter than the available interior space.
Do note that the interior space is slightly reduced by joining seams and the top sloped down shape. Current models have the perch set back 1/2" from the mid point to give the bird more head room. Most standard sizes would have more than one perch holes to allow adjustment.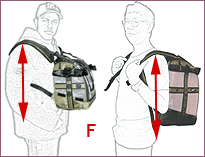 When use a as a backpack, the bottom of the carrier should be above the hip. When use as a front carrier, avoid walking on uneven ground as you may not see you footing.
Stainless steel or Nylon Mesh
Beginning 2016, all Pak-o-Birds have stainless steel mesh. We can make one with nylon mesh upon request. The stainless steel mesh is strong and flexible with over 50% open area for ventilation. Though metal reflects and carries a glare from a distance, the visiability for the bird is clear from inside.
Bigger or Smaller Size
The standard length of medium and larger sizes has been reduced from 15" to 13" in 2008 partly to make the carrier more comfortable for women to carry in the front because of their smaller frame. The reduced length does offer sufficient space for one bird.
If the Pak-o-Bird would be used for long duration such as car trip or as a mobile home for overnight weekend trip, consider a large size that gives the bird more space to move around while having all the favorite toys strapped inside to keep it happy along the way.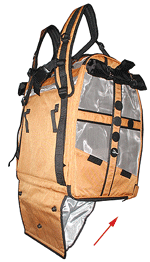 Take your time to introduce the carrier, your birds would love it once they can establish the idea of going into the carrier means going out with you!
Perch Position and Tail Pouch:
Most carriers come with more than one perch position (E) to accommodate birds of various sizes and tail length by moving the perch up and down. A foldable tail pouch can be added to most sizes for bird with very long tails. However the tail pouch needs to be folded flat when the carrier is placed on a flat surface
For Your Comfort:
Pak-o-Bird is padded on the back. The padded shoulder and backpack straps are very comfortable to wear. We also customize the carrier to fit individual needs such as to shorten the backpack strap for people with small body frame. We suggest you try out a standard size and gain some experience before deciding on the perfect solution for your travel need.
General Size Reference: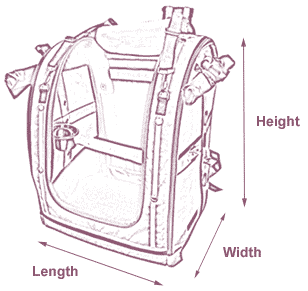 X-Small Size
10" x 8" x 11.5" (25 x 20 x 29 cm)
Perch Positions: 4", 6" (10, 15 cm)
Lories, Lovebirds, Parrotlets, Caique, Small Parakeets, Hanging Parrots, Pekin Robins, Sugarbirds, Waxbills, Zosterops, etc.
Small Size and Small with Tail pouch
13" x 10" x 14" (33 x 25 x 35 cm)
Perch Positions: 4", 6", 8" (10, 15, 20 cm)
Optional - Tail Pouch 6" (15 cm)
Cockatiels, Small Conures (including Sun Consures), Lorikeets & Lories, Medium size Parakeets, Small Amazon, Pionus, Poicephalus Parrots (including Jardine's, Meyers, Senegal Parrots), etc.
Medium Size and Medium with Tail Pouch
13-15" x 12" x 18" (33-38 x 31 x 46 cm)
Perch Positions: 6", 8", 10" (15, 20, 25 cm)
Optional - Tail Pouch 6" (15 cm)
Conures (Blue-crowned, Slender-billed), Small Macaws (including Yellow-collared and Hahn's Macaws), Amazon parrots (including Blue-fronted, Mealy, Yellow-fronted Amazons), Eclectus Parrots, Average size Grey Parrots, Small Cockatoos (incl. Rose Brested or Galah), Large parakeets, etc.
Modified Medium Size Up to 20" (51cm) W and 21" (53 cm) H
Perch Positions: Made to specifications
Modified size and structure for birds such as Large Congo African Greys, large Amazons:
Congo African Grey 13-15" x 12" x 18" (33-38 x 31 x 46 cm)
ML and Large size 22-28" (56-62 cm) H
Perch Positions: Made to specifications
Modified size and structure for birds such as Moluccan Cockatoos), Toucans, Mini Macaws (including Severe Macaws, Military Macaws):
Umbrella cockatoo 13-15" x 12" x 22" (33-38 x 31 x 56 cm)
Toucan 15" x 16" x 22" (38 x 41 x 56 cm)
Moluccan Cockatoo 15" x 12" x 26" (38 x 31 x 66 cm)
X-Large (Macaw) Size 15" x 15" x 32" to 38" (38 x 38 x 81 to 97 cm)
Perch Positions: made to specifications
Large Macaws including Blue and Gold, Scarlet, Green-winged Macaws etc.
For Two or More Birds 20" x 12" x 18" (51 x 31 x 46 cm)
Perch Positions: Made to specification
For Airline Travel 16" x 10" x 12.5" (41 x 25 x 32 cm)
Perch Positions: Muliples
There are no products listed under this category.