Super Bird Creations
First Bird Tray
What is Macaw
First Pak-o-Bird
Birdie Pouch
Birdie GOGO
Yes You Can!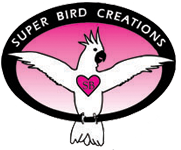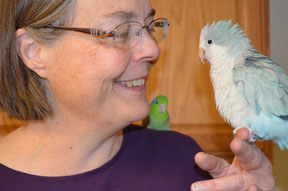 "Debbie and Skye"
(Photo courtesy of Super Bird Creations)
Super Bird Creations, inspired by a lifelong love of pet birds, was founded by Debbie White in 1992 with the goal of creating safe, fun and stimulating toys for companion parrots. With over 40 employees based in beautiful Colorado, it has grown to be one of the largest bird toy suppliers in the US.
To promote the concepts of enrichment and responsible bird ownership, Super Bird Creations has sponsored the following educational websites that provide useful information to new or experience bird owners alike that you may want to check out:
ParrotFunZone.com - created to engage children and young adults with the hope inspire them to learn more about the wonderful world of pet birds.
AvianEnrichment.com - with over 100 insightful articles, provides information to bird owners with the hope that it will foster a deeper understanding not only of basic bird care but also of the full range of a parrot's instinctual, emotional and physical needs.