Custom Design
First Bird Tray
What is Macaw
First Pak-o-Bird
Birdie Pouch
Birdie GOGO
Yes You Can!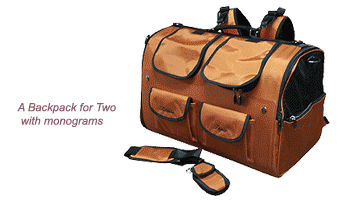 Each pet is unique, particularly yours. Over the years, we have worked with many pet owners and created amazing products for specific needs with unique ideas. Creativity has no trend!
The cost of a custom carrier depends on the design's complexity and materials used. It usually takes 3-6 weeks from the date of final confirmation to make the item. All products are made in USA.
We do not duplicate a product made by other company.
STEPS TO HAVE A CUSTOM CARRIER MADE:
Browse and add one of the five base model: Pak-o-Pet, Backpack-o-Pet, Tote-o-Pet, Pet-on-the-Go and Pouch-o-Pet.

(Do review the following custom made designs for ideas. These existing designs are also available for order directly.)

Add the $80 hand cut fee
Add the desired modifications. (We will review the order and may call you with questions or comments about the selections.)
An invoice with detailed modifications will be emailed for your final confirmation. Once confirmed, we will take 50% as a deposit. The balance and shipping cost will be processed when we ship and email you the tracking number.
Please call us 1-718-388-8882 to discuss if you have any questions or specific needs. Custom-made items are not returnable nor refundable. However, we can have it posted in our Trading Post page to help you sell it.