The Tenth Year
Defining Made in USA May 2010
The Big Move ~ Made In USA
The results of a slowed down economy continued to put pressure on businesses. Celltei was not an exception. We had a very skilled and talented staff in Hong Kong but were frustrated about unstable quality of materials. Managing the operations from miles away was extremely challenging. In spite of genuine effort, we were not able to achieve the production efficiency needed. We started to focus more on customized items. As the US economy worsened, we took a bold move and moved production to the US. Some of our Hong Kong staff retired while others took alternative jobs. Through our connections, we were able to ask for assistance with the startup of our new production.In early 2010, we jammed a 40 foot container of machines, equipment and tools into a warehouse nearby and started training new staff.
From Warehouse to Manufacturing June 2010
We did as much as we could to reduce the renovation costs. After two months of hard work, we had a bright new production facility. Many friends and neighboring businesses offered their help. Jose, who worked for the engineering firm up-stairs, directed most of the renovation work. Roger, whose company fixed trucks, spared their staff to help hoist our two-tone high press cutting machine. Martin, a welder nearby, re-built heavy duty shelves and welded together old metal display frames for the decorative outside gate. Gabriel painted the gate. Adrien, Martin's boss, lent us the expensive equipment in exchange for a six pack (he didn't even ask for). Lastly, most gratefully, a postman who picked up packages for us for years and offered his postal truck to help us move a metal beam around the block. I had to ask if he was sure many times as I knew we could get him in trouble. I couldn't imagine the amount of money we would need to spend to get this many tasks completed if it wasn't for the local businesses offering a helping hand. There is little 'extra' in running a small business, only hard work with no corporate jargon. "A friend in need is a friend indeed." We appreciate all the help and hope we can return a favor one day.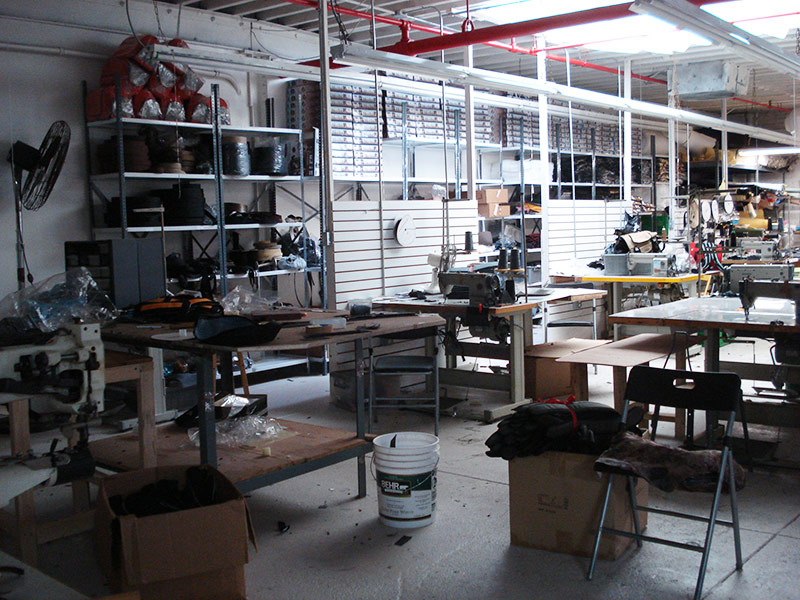 Production in October 2010
As making luggage is very labor intensive and demands flexible skills, it is not easy to train and retain new staff. We are however able to know the source of all our materials. After one year, we are still organizing slowly but surely.
Few companies manufacture their products. Celltei is willing and continue to look for new angles and opportunities. Still tuned!
Angie in summer 2011