"Hello, I am Severus"
(Photo courtesy of Beth B.)
Open Top Design with a 6-inch width expansion
| | |
| --- | --- |
| Special Made for: | Severus, the handsome 13 lbs agility poodle |
| Base Model & Size: | Backpack-o-Pet - Large size |
| Material & Trims: | Cordura® blue |
| Lining & Mesh: | Black Lining with black netted mesh |
Modifications:
Change two dimensions to 19" L x 12" W x 12" H
Change structure to have a top zipper opening with cover
Add 6" expandable back extension with a mesh window area
Add dark brown leather trims (waived)
No front pocket, leave two side pockets (waived)
Remove side external water bottle holder and cellphone pouch (waived)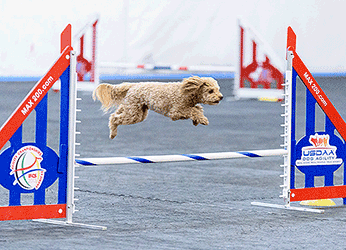 Severus "flew" over fence
Date Completed: Feb 2016
This should be a "mansion" for Severus. The brown trims complement the blue body color very nicely.
Begin with:
I have a mini poodle, 13 lbs with really long legs. We travel to compete at agility events. (Beth ordered a large size backpack customized to have a length expansion)
For a 13 lb Poodle, in spite of his long legs, the regular large without the expansion should be big enough. Is there any reason you want the expansion?
He has really long legs ;). If the expansion could be width rather than length that would be better. I just have never flown with him.
We have made quite a variation of design with expandable side.
So long as it can be worn as a backpack and have a side extended at some point, I am game. I just think that would be more comfortable.
Unlike the length expansion, because of the structural support pieces we put in, we cannot expand the entire area but a center portion of the side.
End with: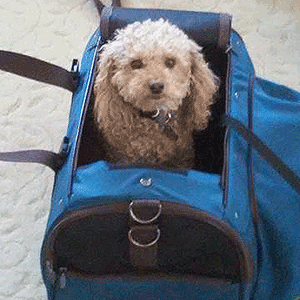 It arrived, it is awesome!!!
Thx so much!! Here is Severus in the bag.
Beth B.
(Photo courtesy of Beth B.)
Customers Also Viewed