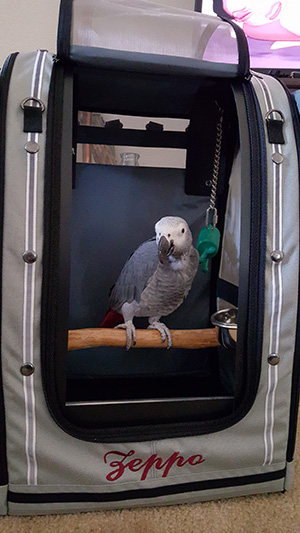 "This is Zeppo's House"
(Photo courtesy of Jillian R. of Nevada)
Bird Backpack with Extra Padded Waist Strap
Modifications:
Change material to be Cordura Grey
Perch position at 6" above the floor & perch diameter is 1.25"
Cup postions at 8.25" above the floor
Add feature to attach the Osprey Ariel 65 padded waist strap customer provides
Monogram: "Zeppo" in burgundy color thread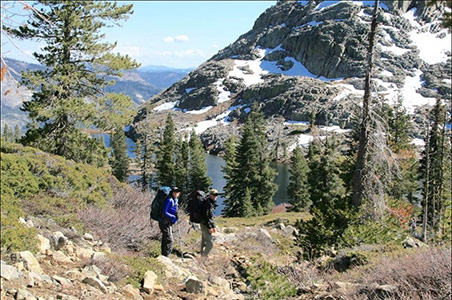 Exploring nature
(Photo courtesy of Jillian R. of Nevada)
DESIGN NOTES
Date Completed: Feb 2016
Begin with:
Jill is an outdoor enthusiast planning to include Zeppo, her African Grey, in her ventures. With the gears on her back, she is thinking of using the wide padded waist strap to carry the Pak-o-Bird in the front. In spite of her height, we are concerned that the carrier may block her view to her foot. She will risk tripping on an uneven path. The ideal situation is to start with short hikes and get Zeppo used to be inside the Pak-o-Bird first. Eventual, use the Birdie Pouch on her shoulder when she is "making the miles" and set up and use the Pak-o-bird when she reaches a resting point. The bird carrier can be folded and strapped atop or outside her backpacking gear. We can add various rings, loops and strap for attachment. The key is to assess the path condition to determine the best way to carry the bird safely and comfortably for both. Yes, it can be done and should be fun!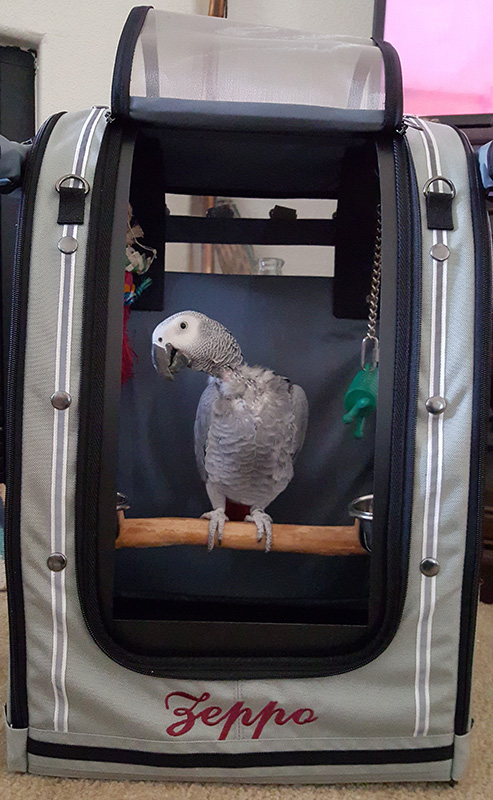 Zeppo accepts Celltei Pak-o-Bird
(Photo courtesy of Jillian R. of Nevada)
End with:
I got it all set up. Looks great! Fits me awesome! .. Thank you again! Such a great job and very easy to assemble!
Zeppo moved closer to the carrier last night on his own! Climbed off his cage and walked over to his stand to check it out. I got him in it this morning! Not scared! He's now chilling on his table perch a foot from it, but I'm happy he didn't go all scaredy bird :) !
Jillian
Zeppo is a plucker, hopefully he will be too busy seeing the outdoor world that he has no time for organizing his feathers!
Customers Also Viewed