Custom Made for two blue and gold Macaws
Base Model and Size: Pak-o-bird - double
Material & Trims: 1680D Gold
Lining & Mesh: Grey and stainless steel mesh
Reference point for straps position:
- Person's height 5' 8"
Modifications:
- Dimension: 21" x 15" x 32" H
- Perch position: 18" and 20" from floor
- Secure Divider in the middle making each compartment size of $10.5" - reinforce the support and attachment for this removable divider
- extend back support and reinforced the curve point with strong material to make the carrier stand firm
Start with:
Customer in Japan inquired about XL size for three macaws (a pair of Blue & Gold and a Hybrid Blue & Gold) in case of emergency evacuation. After some consideration including measuring the bird sizes, the customer decided to have the Hybrid in a carrier measuring 12" X 15" X 32" with a stroller and make a double with the divider (as shown here) for the pair of Blue & Gold.
End with: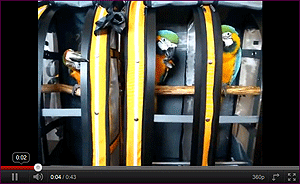 Customer uploaded a movie file of carriers on Youtube.
They look so nice! Everything is just perrrrfect! The macaws are so excited and they couldn't stop talking.
(The movie file is of their first encounter with carriers)
As you can see, they already attempted to bite the parts, but they material you've used is so strong that even they couldn't chew them off. Thank you!"
1 Review
Love the product love the company

I love this product. I am so excited to have it I bought two for my blue and gold macaw's I'm using them to secure them in my minivan for when we travel. No more birds climbing on me or flying into the windshield if I have to hit the brakes. They're safe they're secure we can go anywhere we want. When you get on the phone with this company which you can they will answer and they will talk to you they will custom make something for you . These carriers were very easy to put together they break down they're nice and flat so you could store them anywhere if you needed to and they're extremely well-made every detail has been thought of and executed. I love it!!!!!
Customers Also Viewed