Large size Backpack the strap is for
(Photo courtesy of Alexis H.)
Front Carrying Strap
| | |
| --- | --- |
| Special Made for: | A 9 kgs Shiba Inu in Singapore |
| Base Model & Size: | Pouch-o-Pet - Strap Only |
| Material & Trims: | Cordura® Coyote |
Modifications: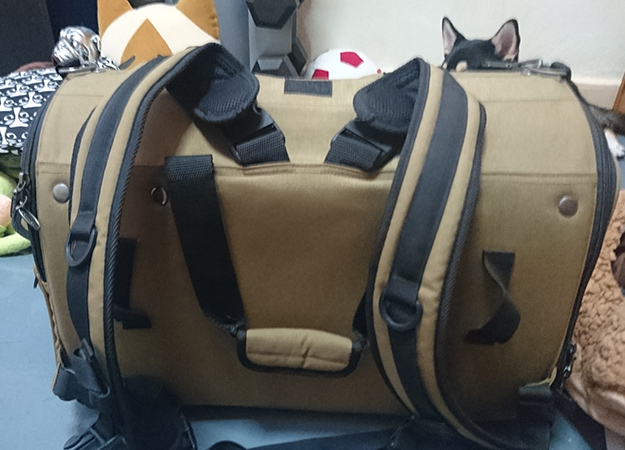 Large Backpack-o-Pet in use
(Photo courtesy of Alexix H.)
Date Completed: October 2016
Do note that for the supplies of fasteners may change and we may not be able to match those used in earlier models.
Begin with:
Two years ago I bought a carrier from your for my 1 year old Shiba Inu. The carrier is awesome. Now he has grown into a "teenager" he would want to have some front view. Can I carry the large size backpack in the front?
The large size backpack is rather bulky to be carried in the front particularly for people of small status. The strap was designed for the bag to be carried on the back. We could make a set of front carrying strap for you. We inquired about Alexis; body size also to ensure we have the appropriate strap length. We proceed to make the strap with the same color as customer's large size Backpack.
We do ask Alexis to have a friend helping her adjust the strap so that she can carry the heavy bag in the front very comfortable.
Customers Also Viewed