Custom Made for two 8 lbs. Chihuahuas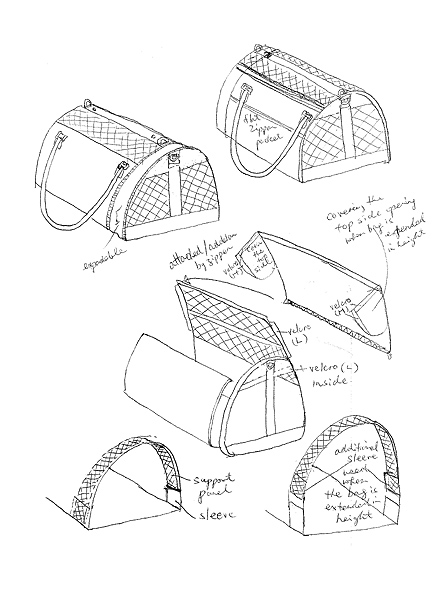 Base Model and Size: Pak-o-Pet
Material & Trims: Leopard Microfiber with Black glossy Leather trims
Lining & Mesh: Khaki and Leopard pattern smooth beige mesh
Modifications:
0) Hand cut fee:
1) change dimensions to 16" L x 16" W x 10" H - change weight and depth
2) add 6" expandable on height including a modified top entrance and separate extension piece
3) add 6" expandable on one side
4) Both sides open fully with full mesh and a privacy curtain that can be flipped up to cover from the inside
5) Flat zipper pocket in the back for store the extra extension pieces
Background/Comments

Start with: Need modifications to support lufthansa flight overseas but that can expand to be comfortable for other travel.. this needs to be light weight as total weight allowance is 8 kilograms for flight... instead of pockets would like mesh windows so they can see me during flight with curtains on outside with outside material that can roll down to cover mesh... Lisa
Celltei: Conceptually, the extended height can be done this way (see drawing above). The drafting will be challenging but we will make it. We will have the top made with body material and still keep a opening with cover (like regular bag) that can allow you to see the dog when you roll up the flap. You will not need an extra piece to cover the top. The sides remain mesh with a privacy curtain that can be flipped up and cover from the inside.
We assume that you are right handed and will move the expandable portion to the left size of the bag so that when you carry the carrier on your right shoulder, the expandable portion is toward the back.
We use leopard for the main body fabric but we just don't have enough mesh with leopard print for this expended size. Would the beige mesh with grid used for the Lite khaki Pak be fine?
Lisa: Yes..the khaki is fine....thanks!
Celltei: Okay, aiming to ship on Wednesday.
End With: I just wanted to let you know how much I love the dog carrier! It is perfect, exactly what I wanted! It is also made so nicely with high quality material. You did an excellent job! Thanks so much!!
Customers Also Viewed