"Hello, I work everyday"
Modified Pak-o-Bird for a Red Tailed Black Cockatoo
| | |
| --- | --- |
| Special Made for: | A Red Tailed Black Cockatoo that goes to work everyday in Japan |
| Base Model & Size: | Pak-o-Bird Large size |
| Material & Trims: | 1680-Denier Nylon Stone Color (special order) |
| Lining & Mesh: | Grey Color Lining with Stainless Steel Mesh |
Modifications:
Change Height to 15" L x 15" W x 26" H
Perch position at center - perch holes set in . 10", 11, 12" and 15" for possibly cups
Perch diameter 1.5"
Add wide waist strap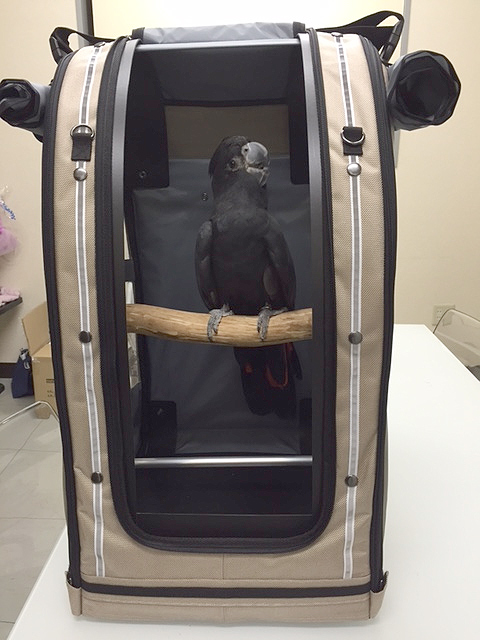 "I like my new Pak-o-Bird"
Date Completed: October 2015
It seems that larger birds like to have more head room.
Begin with:
My bird is a red-tailed black Cockatoo. I take it with me between home and office. I ordered the ML size a few months ago but it was little small but the large is too big. So I tried the one customized for a raven.
The ML size is 13" L x 12" W x 22" H. The custom made one you ordered is for a raven with different body shape and the dimension is 15" L x 16" D x 26" H. So it is not only higher but also deeper and wider.
[After some exchanges, we decided on the dimension of 15" L x 15" W x 26".] H
End with:
I received carrier today . Color is good and just a good size , thank you.
(Photo courtesy of Makato S. in Japan)
Customers Also Viewed