How to Choose Pet Carrier
First Bird Tray
What is Macaw
First Pak-o-Bird
Birdie Pouch
Birdie GOGO
Yes You Can!
Pet carrier is not just a bag but one for a live creature. Let's review some questions in choosing a pet carrier:
Does the carrier have the proper support structure to protect your pet and provide a stable interior with no "collapsing roof"? Are the structural pressure points reinforced?
Is the carrier balanced and leveled for the comfort of you and your pet?
Are the closure fasteners secured to prevent an accidental runaway? Is there a security mechanism to restrain your pet when needed?
Does the carrier have proper ventilation? Does it allow the pet to maintain privacy and also eye contact with you when needed?
Are the materials suitable and safe? Is there no loose parts inside the carrier?
Are the carrier properly padded and straps adjustable? If not, you will feel it soon!
Is there enough storage space for your travel needs? You don't want to carry too many bags and lose the one your pet is in!
Is the carrier suitable and safe for your travel method? e.g. Allowing you pet's legs to "hang out" seems disturbing to us.
A size chart is included below. However, size should not be the only consideration. Please review all the following:

1. FOR NEW PET OWNER


Train Your Pet Early

Pet carriers enable your small pet to take part in your daily life. Yet, most pets feel nervous when they are forced into a small space UNLESS they have learned that it is the way they won't be left behind. Introduce the pet carrier when your pet is still small can eliminate that fear. By training your pet early, you can expect to see your pet hops into the carrier when you are putting your shoes on! More so, your pet will adapt to the small space of a compact design which makes it easy for you to bring him or her along.

Learn Your Relationship and Preference
Pets have personality too - some are timid and shy and some are fearless, but all love our attention. Likewise, we develop different degrees of attachment to our pets. Do you need a carrier for transporting your pet to and from the vet's office only or are you looking for one that you can take your 'sidekick' to many places including restaurant and opera house? It matters because for an average size pet that weighs 6 to 12 lb., you may want a design that offers more than one carrying methods. Are you looking for a fashionable design that announces your pet's presence or a discreet design with which no one knows you have a pet? Will your partner share the responsibility of carrying the pet? If so, his or her opinion also counts.
Don't Spend Too Much on The First Bag
For example, puppies from the same litter can vary in size and don't be surprised if you pet grows to be bigger than you were told! Besides, an active puppies can soil the carrier in no time. Not only the perception of space varies from person to person, you also have a lot to learn about your behavour and what features can best serve your travel needs with your pet. If you can bring your pet to work, you may need more storage to hold a laptop and a mean to strap a jacket for your pet. If your pet is your shopping buddy, you may opt for a lighter weight one with narrow body. We also found that pet owners purchase a new pet carrier every nine to fifteen months not because the Celltei carrier is worn out but they just need a new design to match their changed clothing style. Do review the important features listed below. We have added a new Trading Post section for users to sell an outgrown carrier and buyers looking for special deal. Also check out our Basic lines, simplified designs with all the essential features but at an economical price available in four major styles.

Must Have Key Features (Also See Feature List for all the features)
Zipper with locking device - This is perhaps the most important feature. Look for this locking device on the zipper so that the zipper can only be open from the outside by lifting the zipper puller and the connected safety pin. Therefore, your small pet cannot force there way out from the inside.
A sturdy structure with good support - Have the carrier set up, put in some items(say cans of treats) that weigh similar to your pet's full grown weigh and try it on your body with the various carrying methods. The shape of the carrier should hold up reasonably well. Some degree of compression is acceptable but the carrier should not collapse particularly in the mid section. The carrier should be leveled to the ground and not be tilted. It should also has a base support hard enough to hold your pet and would not sag. Make sure the strap is comfortable to you and the total weight is manageable.
Use of hygienic material - Whether it is hair, crumbs from the treats or dirts trapped in your pet's paws, you will need to clean the carrier from time to time. In addition, most pets are still in training when they first use a carrier. Accidents do happen and a design with features (such as our floor tray) that can temporarily hold the liquid is desirable. Please check the base support. It should be made of hygienic materials for frequent cleaning. Wooden board wrapped inside lining is a bad idea.
If you are a new pet owner, don't forget to enter gift code newpetowner when you check out to enjoy a 5% new pet owner discount.


2. INTENDED USAGE
Review the possible restrictions or requirements in the various activities your pet will be involved in
can give you insights in choosing the right carrier. The following are for your reference only, you should
choose what is suitable for you and your pet:
Usage
Restrictions / Requirements
Recommendation
Visit the vet's office twice a year

Look for one that is simple, sturdy and can be stored away. As any family members may take up the responsibility, a gender neutral design may be preferred. One with more than one carrying method allows you to switch weight and make the trip easier. An economical model may spare you the agony when your pet accidentally soils the carrier because of the nervous experience. Who likes to the needles!

Most Celltei carriers have a detachable support structure. Any of the economical

Basic

models is good and particularly the

Pak-o-Pet

style with handle and shoulder strap.
Travel by air with you in the cabin area
Look for one with flexible but good support structure for the roof so that the carrier will not collapse on your pet. The space underneath the seat is about 9" to 11" depends on the amount of space taken by the electronic boxes added under each airplane seat to control the at-seat video entertainment systems. Some airlines also have total weight limit (the carrier and the pet combined) that you need to taken into consideration. With the seat's frame and supports, it seems to us that you may have more space underneath the center seat and the least under the aisle seat. Please check with the airlines before you book your flight. (See Travel by air for more details).
Except for the open-top designs, Celltei carriers are designed for airline travel. Up to the medium size, the carriers are suitable for airline travel. The large and XL size exceeds the length limitation posted by some airlines.

Shown above is a large size Backpack-o-Pet (photo courtesy of Janine J.). The Backpack-o-Pet is an ideal design for frequent travelers who may have other carry-on lugguages or people who are traveling with small kid(s). For occasional travelers, use the same pet carrier style you use at home and at your destination.

Go to work by bus or train

Celltei is one of the 20% US companies that allows pets at work. Our pets make the best supervisors who won't allow you away from your desk for too long - no more chit-chating in the pantry. Often in major cities such as NYC, public transportation is the only viable mean to travel economically and efficiently. When being transported in public facilities, pets are required to be in a fully enclosed carrier. Look for a carrier that can be completely enclosed, with structure support and closure with safety locking device that the pet cannot push open from the inside. Additional external pocket or compartment can be very handy in storing your laptop or business document as well. If it is for the big guys, a way to wheel him in and out of the system will be helpful too!

Most of Celltei carriers are discreet designs with privacy feature to keep your pet undisturbed in crowded environment and extra storage space for you both. We have also added wheels to the carrier for big dogs.

Shown above is a custom made small size vertical Backpack with extra back compartment for laptop as well as letter size document. Backpack-o-Pet, Pak-o-Pet, or Pet-on-the-Go are suitable designs. Choose the one that is comfortable to carry in case you get stuck.

Travel in speed - car / bike / motorcycle

Speed demands safety, look for the necessary features that can allow the pet carrier to be strapped securely to the car seat or your body. For riding a car, we recommend one with enclosure and security leash. In case of a sudden stop, your pet will not be thrown out of the carrier. For riding a bike or motorcycle, it is important for the carrier to be attached tightly to your body so that the weight of the pet carrier become part of your body without disrupting the motion when you need to make a turn. Add a reflective strap or two to the carrier for improved visibility. The carrier should have good structural support and not be in your way when you are riding. Use a harness and have it attached to the inside security leash of the carrier. Enjoy and be a responsible driver!

Nearly all of Celltei carriers have the feature for strapping to car seat belt.

Backpack-o-Pet

,

Pouch-o-Pet

, and

Pet-on-the-Go

are good for riding a bike. Only the former two are good for high-speed motorcycle rides. For big pets, we would recommend a custom made design for a contoured design with wide cushioned waist support strap.
Mobile home when traveling

Look for a carrier with a wide body if you expect your pet to be inside for many hours and may even sleep in it overnight. A wide body can allow the pet to curl up more comfortably. A good support system that provides stable interior space is necessary. You may add a thick pad for a sweet dream! The extra features for water access, climate control or additional storage for food and accessories will come in handy. Celltei carriers in general have a wider body than other brands'. It may seem bulky, particularly for the larger size one, but your pet can use the extra space to move around comfortable during a long trip.

Jack in a
large size


Backpack-o-Pet


photo courtesy
of Angela).



Backpack-o-Pet

and

Pak-o-Pet

, both of a square shape, are recommended.
Emergency Planning

In case of emergency, leave your hands free as much as possible to guide you through a dark room, balance yourself or help other family members or strangers. Your pet can be as nervous as you are. Keep your pet close to your body if possible. Make a list of all the necessary items including water (and a mean to give it to your pet) and make these items easily identifiable and accessible. Look for a carrier that has a stable structure and enough storage for the necessities and preferably a carrying option to allow you hands free. Pls reherse your emergency exit route or plan from time to time to prepare your pet and yourself.

Traveler Backpack-o-pet

is designed to store the essentials for a short trip. You can access items stored inside through the two small side doors without detaching the bottom compartment. The bottom structure is reinforced to hold the pet carrier's weight on top. We have been researching for light, flexible but strong material and welcome any suggestions.
Parading downtown

It is NO LONGER a woman's prerogative to carry a small pet around town. Macho men need not worry to march with their sidekicks. To parade around town with our charming friends on a nice fine weekend days, look for a compact and fashionable style. It is a compromised act but the attention our best friends get will out-weight the need for a roomy carrier.

Tote-o-Pet

and

Pet-on-the-Go

offers a narrower body and many fashionable designs. Also check on our Custom Design for more options.
For the very special occasions

Occasions such as graduation, wedding or funeral, many people are bringing their four-legged family member along. Look for a quality company who can understand your need, intepret your ideas and produce the product. Ideally, the end product will have some support structure. You may ask to see some existing works before confirming your order. Wouldn't it be fun to have your own design!

We design for your special occassion. Below is our

Love Series

designed first as a valentine gift and the Precious Pak-o-Pet for a wedding (photo courtesy of Dr. Wong-Lopez).
When we choose a pet, we find particular type or breed that can fit our lifestyle.
The following table gives you some insights of how various styles was developed. You can surely find a Celltei
that matches the lifestyle with your pet.
Lifestyle
Style & Design Concept
Pros
Cons
A family pet

Pak-o-Pet

is a hand carrier with shoulder strap. This simple design offers a discreet pocketbook or luggage look and a lot of storage space.

It is a gender neutral design and offers two carrying methods. Many people are surprised to find a pet inside. Larger sizes are available for bigger size pets.

The wide body may make the larger size carrier look bulky.

A outdoor partner

Backpack-o-Pet

great versatility makes transporting your pet a snap! Converts into a backpack, shoulder bag, hand-carried bag, luggage attachment or car seat cradle.

Pouch-o-Pet is a hybrid that turns the Pak-o-Pet into a front-carrying design, so your beloved pet will be in full view. The straps are cross in the back to prevent it from sliding off the shoulder and with additional waist strap support to make it comfortable to carry the weight.

Both designs allow you to be hands free and yet offer the flexibility of detaching any carrying straps that you don't use. The

Backpack-o-Pet

is most versatile and suitable for heavy pets.

The Pouch-o-Pet is a suitable for motorcycle rides with your pet. Because most of us have seldom used our neck muscle, it is best used for pets of up medium size.

Like the

Pak-o-Pet

, the

Backpak-o-Pet

has a wide body that makes the carrier look bulky with a sporty appearance. Some people prefer to be able to see their pets are not comfortable with this design.

With the crossed straps, the Pouch-o-Pet is a very secure and yet attached to your body. The shape contours with front side narrower than the back to better fit our body shape and an embraced gesture. The interior space available for your pet is however compromised.

A shopping buddy

Tote-o-Pet

is the ladies' favorite to run daily errands with their four-legged shopping buddies. From casual and street-smart to more refined and urbane, the design is elegantly shaped to allow extra length with a narrower body.

The Mandarin and Lunar Series are a collection of our designer fantasy. On-going designs for the short or tall, long or heavy, plus carriers crafted for the very special occasions are listed in .

From colors to styles, there is basically no limit to what pleases a woman. The narrow body makes it more comfortable to tuck the carrier under the arm. These fashionable designs are often perceived as a high quality handbag, few suspect that there is a pet inside. There are many choices to match your clothing styel.

These are shoulder bags that offer one single carrying method. The shoulder strap even though in most lines adjustable is a bit too long to be used as a handle. Just like wearing a high heal shoes, perhaps the weight can be overlooked for fashion sake.

Design based on a Theme
Celltei®

Love

and

Gothic

are unique designs based on the heart shape and a gothic theme with high-quality materials and exquisite workmanship.

Creativity is unbound; everyday you look around, you could find endless of design ideas. As our US production regains full scale, we look forward to bring you more interesting designs with complete ideas.

When it comes to fashion, we certainly find more items available for women. We look forward to make more designs for guys and a wider customer base.

A urbanite's sidekick

Pet-on-the-Go's

sturdy construction and casual look imparts confidence, strength and edginess. Big fellas needn't worry about running around town with this gender-neutral design.

The wide strap that goes diagonally across the chest is very comfortable to wear. Your pet is kept close to your body. The design is casual and in-style.

Although a short webbing handle on the back roof is available for carrying the carrier for short time, there is only one carrying method that makes the carrier very attached to your body.

A retiree's companion

Celltei® Lite

is our latest development to answer the demand for a truely lightweight carrier. We've re-engineered the structure and used new materials to reduce the weight.

On average, the weight is a pound lighter than the comparable regular carrier of the same style. The little weight reduction can make a big difference to some people who has a physical condition that prohibit them from carrying their pets with them.

Some standard features such as the water bottle holder and climate control pouch are eliminated. As the structure is modified, the mid session of the carrier may cave in slightly when a pet of say 10 lbs. or more are being carried. It is a compromise.

For pets other than dogs and cats
Celltei® Pak-o-Bird is the most innovative lightweight carrier designed for birds, based on suggestions from bird lovers.


Pak-o-Small

is designed for small animals based upon their habits and needs.

These are well thought out design made specifically for each animals so that they can travel with their owners. Valuable feedbacks from Users are evaluated in details and improvements are being implemented in each round of production.

Because of the various pets' physical condition and habits and the need for a light weight structure, materials not normally used for making softsided carriers are being sought and tested out. Certain production challenges remain to be resolved.

4. SUITABLE TO YOUR CLOTHING STYLE AND COLOR SCHEME
Black with its inconspicuous nature has been the number one choice regardless of the style. Husbands and boyfriends seem to be more willing to share the responsibility of toting a small pet if the carrier is black. Yet, some people like to have a carrier that matches the color of their pets while some like to have a contrast. For example, pink and baby blue looks very cute for a while maltese. Leopard looks so sexy for a genuine pigs with patches of light brown color. Red is sharp for blue and tan yorkie. Birds tend to accept a bright color like gold easily. A black poodle in a black color carrier isn't really our designer's idea of traveling in style. Guys mostly choose a cold color like grey, navy or dark green and more young gals are into pastels.
The only recommendation we have is to think carefully of your clothing style. If your whole closet is brown and black, don't harrass your daschund with a bright yellow carrier you somehow pick up in an inpulse buying. If jacket with heels is your usually clothing style, you will find the messenger bag style Pet-on-the-Go uncomfortable - it wrinkles your jacket.
Lines & Color Choices
Materials & Caring
Basic offers all essential features in a simplied design for the casual lifestyle. The all season Blue & Grey are chosen for the gender neutral Pak-o-Pet style. Green camouflage matches the urban Pet-on-the-Go design and Sandy blue with light color interior is a more subtle choice for those whom dislike army print. Our choice of a beige body with burgundy plaid pattern mesh and beige interior color summer Tote-o-Pet is well accepted in the US. The greg denim with Jean pattern mesh is ready for the fall.

Active is for people and pets with an active lifestyle. Beige with the Burgundy trimming is an all time favorite in Tote-o-Pet and Pet-on-the-Go. More active colors have been introduced to the Pak-o-Pet and Backpack-o-Pet styles.

Classic is a conservative line for those who prefer to travel with their pets discretely. Besides black, we have added leopard print, a traditional print for pet items.

Fantasia is where we dare to be different with unusual patterns, prints and combinations. New fabrics are introduced, some are difficult for production but we will handle it. Limited quantity is available.

Precious is our luxury line, crafted with such materials as hand-beaded silk and fine leathers. The workmanship is exquisite. Some vintage designs are known to have collection value.
Nylon, polyester and microfiber are all synthetic materials derived from petroleum but are made from different processes. They are commonly used for making luggages, computer bags or travel backpacks. Coating, PVC or PU, are bonded to the back of these materials for strength and durability. Nylon is durable with different strength. The higher the number denier, the stronger or thicker is the material. Polyester can be slightly lighter in weight but tends to be soften under intense heat. Mircofiber has the highest density, was very expensive when it was first invented (used for highend raincoat), and offers a smooth and upscale appearance.

In terms of breathability, with the coating in the back, the bonded materials is not breathable but waterproof. Unlike our clothing that comes in direct contact with our body, our search for breathable materials leads in a very insignificant improvement that is not worth the price. It is more efficient to use mesh and opening in the design for good ventilation.

The construction of Celltei® carriers is consist of 1) coated surface material, plastic boards for support and lining also coated in the interior. It is safe to hose the entire carrier. Just to make sure the wet carrier is dried fast so that water stains would not be left for long periord of time and erose the coating on the metal fasteners.

Delicate fabrics such as silk and velvet are bonded to a thin layer of foam by hand to lend strength to the fabric before they are used in production. Extra care should be taken in handling these materials. Spot clean using a small brush and mild soap is recommended.

Leather as well as faux leather (PVC) are used for trimming. Genuine leathers are sourced from New York. We may add faux leather with matched color for the underside of the leather in area where strength is needed (such as the shoulder strap) if the leather is too soft and elastic. We may also used faux leather for the exterior bottom of the carrier because of its waterproof quality. Proper care should be taken in cleaning the leather.

5. YOUR PET'S SIZE
Except for birds, a pet can be longer and taller than the carrier's length and height because our furry friends have a very soft body, and they often curl up inside when the carrier is in motion. Most importantly, you need to consider your pet's size, not his or her weight. By size, we mean your pet's height when standing and his or her length. As a general rule, your pet should be able to stand up and turn around inside the carrier. As our pets' bodies are very flexible, you may not need to have the full length for the pets to fit comfortably inside.

<cellpadding=1>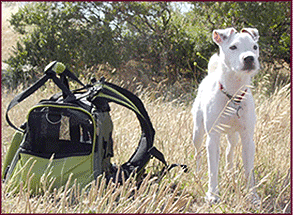 Your pet can be taller and longer than the carrier's size! Shown on left is our world traveler Milo, one of the few dogs made it to the Base Camp of Mount Everest.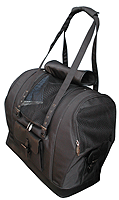 (photo courtesy of Andrew and Josh). As he travels frequently, a smaller size carrier is more compact and convenient for his guardians. Often, it is a compromise between you and your pet!
Celltei® pet carriers are well-made sturdy carriers that can carry heavy weights. When choosing your pet's carrier, remember it is your pet's size, not his or her weight, that you need to consider. Please use the size chart below for reference.
We also offer Custom Designs
. Shown on right are one for a tall bedlington terrier and one for a dog with long body with a modified flap shoulder strap that is more comfortable for heavy weight. Please also check on the breed specific suggested listed on the Dogs and Cats pages.
Size

Pak-o-Pet /
Backpack-o-Pet
Tote-o-Pet
Pet-on-the-Go
Pouch-o-Pet
Notes
Petite
11"x6.5"x8.5"
28x17x23cm

Special order

Special order

Special Order

Comfortably for 3 lbs. (1.4kg) or less; possibly up to 4 lbs. (1.8kg); first developed for tea-cup size pets, small animals and birds.

XS
12.5"x7"x10"
32x18x25cm
14.5"x7"x10"
37x18x25cm
12.5"x7"x10"
32x18x25cm
12.5"x7"x10"
32x18x25cm

Comfortably for 4.5 lbs (2kg) or less; Possibly up to 6 lbs. (2.7 kg); first developed for Chihuahua and ferrets.

Small
14"x8.5"x11"
36x22x28cm
16.25"x8.5"x11"
42x22x28cm
14"x8.5"x11"
36x22x28cm
14"x8.5"x11"
36x22x28cm

Comfortably for 6 lbs. (2.7kg) or less; possibly up to 8 to 10 lbs. (2.6 to 4.5kg); first developed for toy size yorkie

Medium
16.5"x10.5"x11.75"
42x27x30cm
18.75"x9.5"x11.75"
48x26x30cm
16.5"x9.5"x11.75"
42x26x30cm
17"x10.5"x11.75"
43x27x30cm

Comfortably for 12 lbs or less; possibly up to 15 to 20 lbs. (6.8 to 9.7 kg); first developed for cats and pet size dogs

Large
20"x11.5"X12.5"
51x29x32cm

Special order

Special order

Special Order

Comfortably for 18 lbs. (8.6kg) or less; possibly up to 23 to 28 lbs. (10.4 to 12.7 kg); first developed for boston terrier size pets

XL
23"x13"x15"
59x33x37cm
(23"x13"x9")

Not recommended

Not recommended

Not recommended

Possibly up to 38 lbs; first developed for two pets or bull terrier size dogs.
Please kindly note that the above set up dimension is measured from seam to seam. The interior dimension can be reduced by 0.5".

6. YOUR PET'S TYPE & TEMPERAMENT

Never push your pet inside a new carrier and expect him or her to be cooperative during the trip! Most pets love to be with you wherever you go. Start introducing a good pet carrier when he or she is young (see Tips for new pet owners

), there are few places you can't go.

Types and habits - Different pets have different habits. Having the right accessories will make the carrier a more comfortable and acceptable mobile home for your pet. We welcome any suggestions and can custom made any accessories for you at a very reasonable price.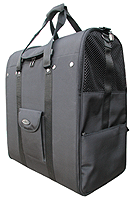 History and behavior - Some rescued pet may have been tramatized and are particularly afraid of being left alone. A larger size carrier with a wide body for the pet to curl up and hide is a good idea. A dark interior with strong fabric will also help. For the hypro-active ones, bring a few more treats and attentively acclimate your pet to the experience.
Physical situation - We have received special custom requests for a pet with certain physical conditions or to meet certain traveling restrictions. Unusal size can be made. Show on the right is an unusally high carrier for a pet with a terminal condition that could not bend his legs half way to get inside the carrier. With the limited time, the owner wanted to take the pet hiking, the way they had done so often before the pet's condition deteriorated. The story really moved us.
Here are some more tips:
If your pet has chewing problems, leave a toy inside to keep your pet occupied. You may also apply some 'Bitter Apple' on the zipper teeth to discourage chewing.
A calm pet is more acceptable to a small size carrier. The curious one who keep turning inside, you may want to use a large size so that the pet can move freely inside.
If you must keep your pet inside the carrier for a long time, flip open the front window flap and roll up all size curtains to allow your pet maintaining eye contact with you.
In case your pet is nagging, unzip the front window mesh just enough for your hand to reach in to pet and calm him or her down. All our carriers use zipper with auto-locking device to prevent it from sliding open unless the zipper head is pulled.
When it is very hot or cold, utilize the climate control compartment to put a cooling or heating pad inside. In case you cannot find a suitable size pad, use a thin towel to wrap around the one you find and place it between the floor pad and plastic board inside the waterproof floor tray.
There are no products listed under this category.