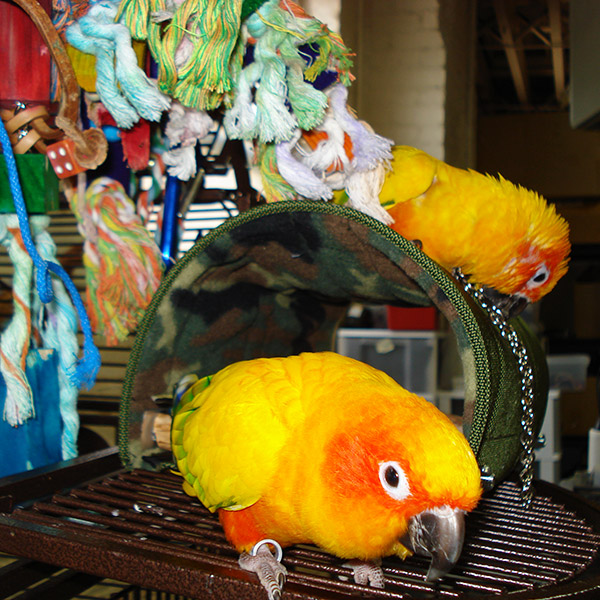 "Sunshine & Fluffy determine to break the chain unsuccessfully"
Like many new bird parents, we constantly look for more food choices, interesting toys, stands and tree to similate an environment to keep Sunshine and Fluffy happy! Yet, they would just ignore the new things and insist on breaking what they are not supposed to. Inspite of the failed attempts, their determination has helped us in ruling out the use of shinny metal chain for hanging the Bird Bunker/Tent! We suppose they have earned their keep!
Accessories (sold separately):
Perches/Platform formed by a roll of perches
Double Sided Fleece Cover
Double Sided Fleece Cover with Peek Hole
Dimension
(L x W x H):
XS - 10.75" x 5.5" x 4.5 inches / (27.3 x 14.0 x 11.4 cm)
S - 11.75" x 6.5" x 5.5 inches / (29.8 x 16.5 x 14.0 cm)
M - 13.75" x 7.5" x 6.5 inches / (34.9 x 19.1 x 16.5 cm)
L - 19.75" x 8.5" x 7.5 inches / (40.0 x 21.6 x 19.1 cm)
Surface Fabric:
1680-Denier Nylon - Olive Green color
Lining:
Double Sided Ployester Arctic Fleece with Anti-pill on one side - Sage color
Padding:
High Density Foam
Style:
Open bottom - for attaching perches/platform perch
Close bottom - with same material for bottom
Accessories (sold separately):

Perches / Platform formed by perches
Double Layer Side Fleece Cover
Double Layer Side Fleece Cover with Peek Hole
1 Review
I received the bunker on Monday and immediately set it up for my Timneh African Grey. She loves to burrow under blankets so I also grabbed a tshirt that I didn't mind losing to place in the bunker for her. Fast forward to this morning (Tuesday), and I hadn't heard her running through her morning calls. I open the cage, gently grab the tshirt/bird bundle, and find that my Grey is still snug as a bug in a rug!

If she is giving two wings up, then I'm giving my two thumbs . Great job on the build, material, and overall size for this product.
Customers Also Viewed