Harlow dreaming sweetly
(Photo courtesy of Beth B.)
Open Top Design with 4-inch Top and Back Expansions
| | |
| --- | --- |
| Special Made for: | Harlow, a 13 months Wire Fox Terrier currently weighs 13 lbs. |
| Base Model & Size: | Pak-o-Pet - Medium size |
| Material & Trims: | Cordura® black with dark brown leather trims |
| Lining & Mesh: | Khaki Lining with black smooth mesh |
| Weight: | 6.45 lbs (2.93 kg) |
Modifications:
Change dimensions to 18" L x 12" W x 12" H (45.7 x 30.5 x 30.5 cm)
Change structure to have a top zipper opening with expandable height of 4"
Add 4" expandable back extension with a mesh window area
Add a sleeve for luggage telescopic handle (6.75" x 1.5")
Use webbing style handle, add dark brown leather to the center leaving a 1/8" webbing edge handle
Front pocket - zipper pocket with side leather trims (0.5" top to 1.5" bottom) and a leather covering flap (with magnet if possible)
Water bottle holder to one side of the back (next to the expandable), will come up with another option if space is not enough
Half mesh side pocket - zipper closure with 3/4" depth and with styled leather stripe highlight covering the bottom
Full mesh side with matched leather highlight
Use of Leather for style:

Extra Comfort Leather shoulder strap
All pipping
Side pocket, bottom and vertical stripe
Some binding area
Telescopic handle sleeve

Faux Fur - brown chincilla hair cover the expanded area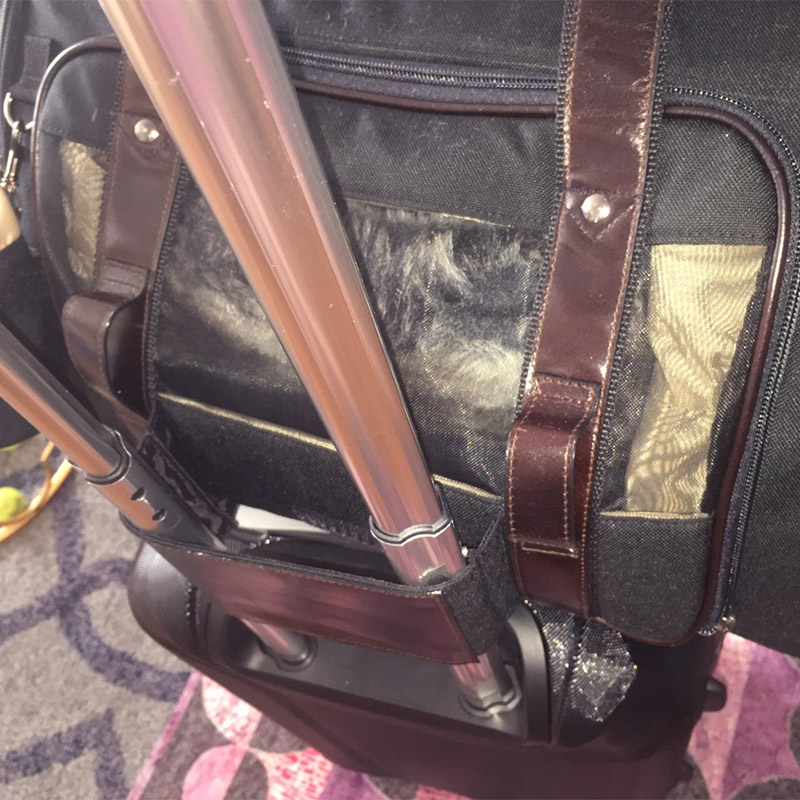 Inserted through telescopic handle
Date Completed: October 2016
This is the first new expand top design we have made based on customer's request.
Begin with:
Raymond spoke and emailed us some drafting of a pet carrier design with reference to other brand products. We initially refused to just duplicate another design. After some discussion, we were able to understand the function Raymond wanted to incorporate and came up with this design.
There are a lot of details in this design but Raymond was very pleased with it. There is one feature that needs adjustment - the bag tilts forward after sliding the telescopic handle through the lower back sleeve. We send out an adjustable strap to add another point of attachment via the two car seat strap loops to level the bag.
The amount of details in this bag is very impressive. We did underestimated the time and cost for this design. Oh well!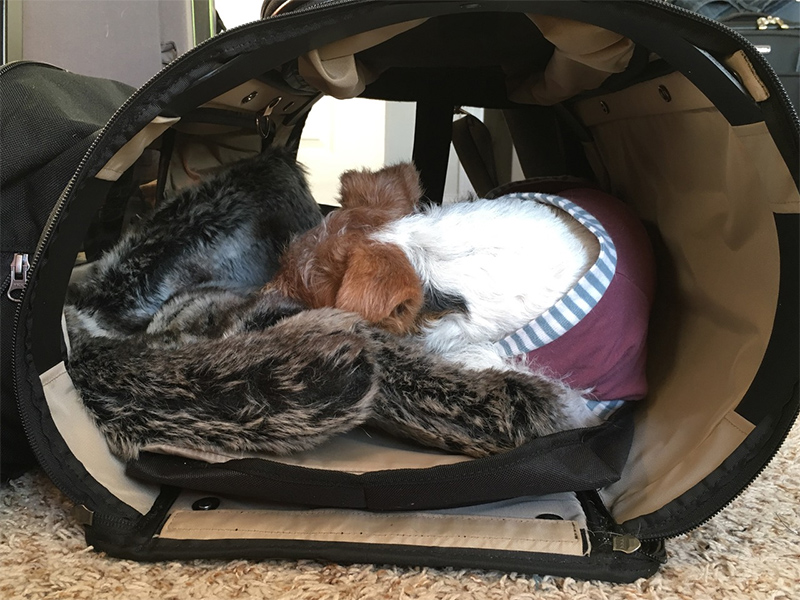 Harlow loves her bag
End with:
It is exactly what I had in mind!!!
Harlow loves her bag and even sleeps in it when at home. We were in NYC this weekend, and everything worked great, I love this bag.
Raymond T.
(Photo courtesy of Raymond T.)
Customers Also Viewed