** the 15" width gold color one is currently out of stock
Dimension: 13" L x 12" W x 18" H
(Original 15" width is also available)
Weight: 4 lb. 10 oz. including
Shoulder strap 3 oz.
Front / backpack strap 8 oz.
Wide support panel set 9 oz.
Roof support bar 1 oz.
Aluminum base support bar 2 oz.
Floor panel 3 oz. (removable to reduce weight)
Additional weight:
Stainless steel cup 4 oz. each
Dragon wood perch 6 to 15 oz. (depends on size)
Perch position (from Floor, seam to seam measurement): 5" from the floor
Fabric: 1680 Denier nylon
Lining: Grey color nylon
Mesh Type: Stainless Steel
Color: Olive or Gold with light grey reflective strip and black color trim
Detachable parts include:
One pair of front/backpack strap
One shoulder strap
One pair of plastic wide support panel set
One detachable plastic floor panel
One roof support bar
One aluminum base support bar
Two 5 oz stainless steel cups
One dragon wood perch (all included)

Difference between African Grey and Medium size:
African Grey carrier has ONE perch position at 5" from the floor
African Grey carrier comes with the wide panel set only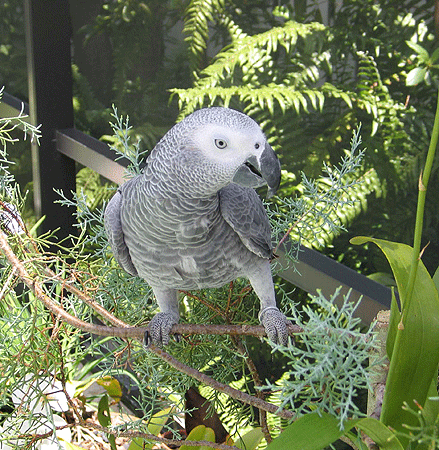 Zen is enjoying himself
(Photo courtesy of Don)
Date Completed: Fall 2004
African Greys are smart, funny and very inquisitive birds. They need to be occupied or will chew anything they can get hold with. Please ensure you have toys and keep them engaged all the time.
Begin with:
I recently bought a large Pak-O-Bird for my African Grey. I love the pack and think it is very well made. I just used it for the first time when I took my bird on a trip to Disney World! Unfortunately, he chewed the little o rings [perch hole grommet] off the inside screens. Can these be replaced? Is there a better system? Would the stainless steel be better? Can I return this one and get one with the stainless steel? Also, I would suggest making the front profile rise more before curving back as when he sits on the perch (which is on the lowest setting) his face hits the screen and he gets upset. It would also help to have a support across the top to help keep the shape better.
Not to worry, we can help...
In between:
:
Following is what I would like to do to make it usable for my African Grey. My guess is that it would probably be easier to create a new carrier with these corrections/adjustments than trying to modify this one.
Replace all mesh with stainless steel mesh (sides and front flap)
Move the bottom perch holes down one inch on both sides (I marked with a red dot). If possible, it would be better to also move them back about a half an inch (I did not mark that).
Remove the extra holes I crossed out (with a red "X") on both sides.
Move holes for the food & water cup holders down one inch (as marked with an arrow and a dot) on both sides. You will also need to move these back a half an inch if you move the perch holes back a half an inch (as noted in #2 above).
You can still use the cross stitching on outside - it will just have to be moved to accommodate the new positions of the remaining holes noted above.
Add the support bar on the top if you think it will help and he won't be able to chew on it."
End with
:
I wanted to let you know I received the carrier today. It appears that they did a nice job on it. I will start getting my African Grey, Zen, used to it again before I try it out on a trip. Although it ended up being more than I cared to spend, I am satisfied with the quality. Thanks for you help.
Beside the change in the perch position and the elimination of any unused perch holes, a wide panel set is added to cover the edge of the front opening.
18 Reviews
This is a well made pack. My bird and I enjoy it very much. Its very comfortable to wear and it allows my bird to come with me much easier then before. It also allows us to do more, for instance going for a bike ride or a walk on the beach. I highly recommend.

CELLTEI PAK O BIRD FOR AFRICAN GREY

I took my African Grey for a one mile walk yesterday on a trail around a lake. Bandit (my TAG) seemed quite content as I walked with him inside the carrier slung over my back. He seems content when I place him inside before heading out- never fighting me to go in. The back pack is also comfortable for me to wear. So far he hasn't destroyed it with the occasional chewing. I definately try to distract him from that!

Pak-O-Bird Modified for CAG

The Pak-O-Bird is a wonderful, well-made bird carrier. It was also an exercise in patience, because my CAG flat-out REFUSED to get in it for just over two years. We kept it out in the living room, we put her favorite treats in the cups, we promised all manner of fun and engaging outings for her. She finally decided to get in the pak, and now she loves going out with me, running errands, riding in the car, and we could not be happier!!

Purchased the Pak-O-Bird for my African gray Congo. Totally pleased with the carrier, it is very well made and should hold up for years. The design covers everything I was looking for and is USA made! Thanks for a great product.

I recently purchased the medium back pack for my 2 parrots. I put one in at a time and they love it. My grey was afraid of travel carriers, but when he is in the back pack he preens himself and talks up a storm. He loves doing chores outside with me and hanging out in a safe environment for him. This is the best item for birds. I am going to purchase one more so we can take both if our birds outside on walks.

I got my Pak-o-Bird and was pleased with the quality.
assembly was fairly easy but the instructions covered some things that were already put together.
Only problem is that one of the bowels does not lock in place otherwise I would give it 5 stars

LOVE LOVE LOVE this item! It is so well made and every little thing has been thought of! Every bird needs one!

Awesome carrier!!!!!!!

I found the Pak-o-Bird, African Grey model, to be extremely well made. Clearly I lot of thought and refinement has gone into this product. No problems at all. And once my bird got used to it, outings became a great addition to our routine.
Customers Also Viewed