Pak-o-Bird XL Sizes for the Wonderful Macaws
Product Description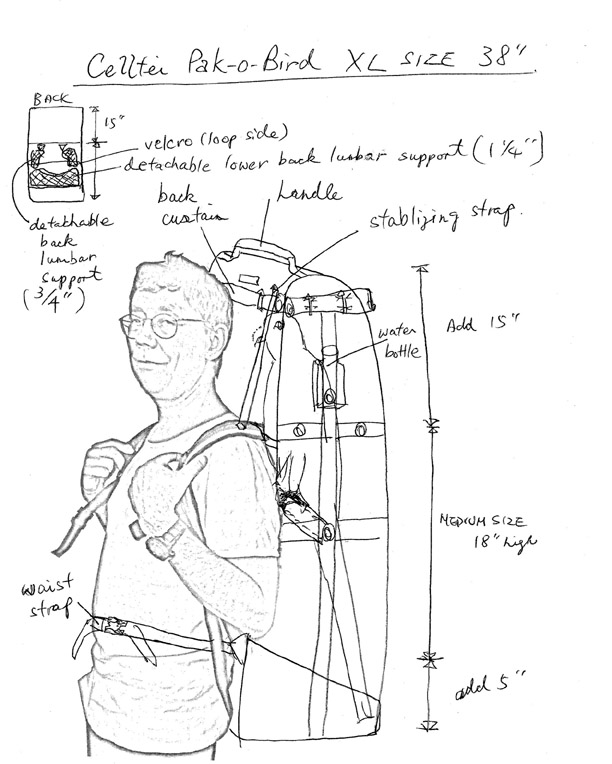 (On the left shows the initial drawing for the improved XL size two years after we first developed Pak-o-Bird for macaws)
Stroller not included in the price.
Dimension: 15" L x 15" W x 32" to 38" H
Weight: 8 lb. 10 oz. to 9 lb. including
Shoulder strap 3 oz.
Backpack strap 7 oz.
Wide suppport panels 12 oz. to 15 oz.
Floor panel 4 oz. (removable to reduce weight)
Additional weight:
Stainless steel cup 4 oz. each
Dragon wood perch 16 to 32 oz. (depends on size)
Perch and cup position (from Floor, seam to seam measurement):
32" height - 13", 15" and 17" (for cup) from floor
34" height - 15", 17" and 19" (for cup) from floor
38" height - 20", 22" and 24" (for cup) from floor
Fabric: 1680 Denier nylon
Lining: Grey color nylon
Mesh Type: Stainless Steel
Color: Olive or Gold with light Grey reflective strip and black color trim
Detachable parts include:
One pair of backpack straps
One shoulder strap
One pair of wide plastic support panels
One detachable plastic floor panel
One roof support bar
One base support aluminum bar
Two 5 oz stainless steel cups
One dragon wood perch (all included)
Many thanks to customers who have posted videos online. THANK YOU!
Yoshi's New Travel Carrier
01:20

Product Videos
Please click and write us a review or feedback. THANK YOU!
Write Review
My Parrot loves it...

Posted by David Strohmeyer on 24th Jul 2016

I have always wanted to be able to take my Blue Green Macaw along for rides and to Petco, with this traveling bag I now do as often as I can. He was a little temperamental about getting in and staying in at first but once we took our first trip out he was hooked. Now he gets excited when he sees the bag and gives little to no problems getting in (depends on if he feels up to it). I like my Celltei pak-o-bird very much, I did not like the price. I think it is very pricey for the bag and probably would not buy another. It was an investment for my Parrots future traveling.
Customers also viewed
Sign up to our newsletter