Pak-o-Bird XL Sizes for the Wonderful Macaws
Product Description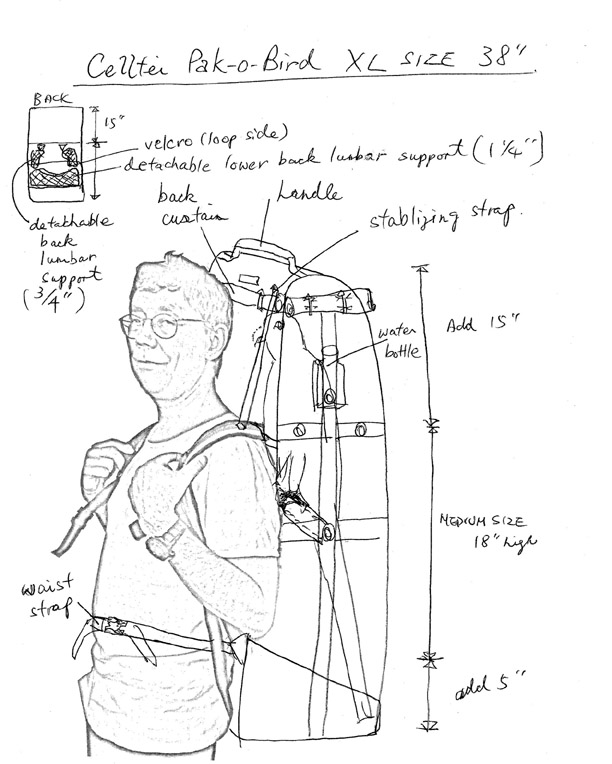 (On the left shows the initial drawing for the improved XL size two years after we first developed Pak-o-Bird for macaws)
Stroller not included in the price.
Dimension: 15" L x 15" W x 32" to 38" H
Weight: 8 lb. 10 oz. to 9 lb. including
Shoulder strap 3 oz.
Backpack strap 7 oz.
Wide suppport panels 12 oz. to 15 oz.
Floor panel 4 oz. (removable to reduce weight)
Additional weight:
Stainless steel cup 4 oz. each
Dragon wood perch 16 to 32 oz. (depends on size)
Perch and cup position (from Floor, seam to seam measurement):
32" height - 13", 15" and 17" (for cup) from floor
34" height - 15", 17" and 19" (for cup) from floor
38" height - 20", 22" and 24" (for cup) from floor
Fabric: 1680 Denier nylon
Lining: Grey color nylon
Mesh Type: Stainless Steel
Color: Olive or Gold with light Grey reflective strip and black color trim
Detachable parts include:
One pair of backpack straps
One shoulder strap
One pair of wide plastic support panels
One detachable plastic floor panel
One roof support bar
One base support aluminum bar
Two 5 oz stainless steel cups
One dragon wood perch (all included)
Many thanks to customers who have posted videos online. THANK YOU!
Yoshi's New Travel Carrier
01:20

Product Videos
Please click and write us a review or feedback. THANK YOU!
Write Review
Great bird carrier

Posted by lxpreston@sbcglobal.net on 28th May 2018

This is my second bird carrier from this company. One for my Sun Conure and the other for my Macaw. I find it that it is very easy to put the birds in it just the fact that it does not fell so much of a threat to them, it allows them to have plenty of light and to look at their sorroundings makes them feel safe as you take them out for a walk. The design of this product is amazing. I do find the price way too expensive and very hard for some people who would love to have one for their birds.

Blue and Gold Macaw Carrier

Posted by Traci on 20th May 2018

Great carrier and great service . Very happy with the quality and design. Our macaw loves it - no adjustment period she took to it right away

Blue Gold fall in love with Backpack

Posted by TMG on 3rd May 2018

Yes the Bird gets down every morning from her cage and climb in and waits for her walk. Well made have had it for about 6 weeks and has with stood the macaw beak quite well. The bird love it even if it tight fit to turn around she just love hanging out in it. Would recommend this product to anyone who wishes to safely transport or take your bird with you.

easy to carry, practical with waterbtl/foodbowl/toy/perch, macaw has 360° view

Posted by Margit on 25th Feb 2018

absolutely 5*!
space slightly narrow to put macaw in and take her out...
not liquid proof bottom, despite newspaper macaw urine leeking and car seat getting wet :( (depending on taxis)...
height of carrier difficult to get through most cardoors, but guess height necessary for macaw size...
perch could be maybe a bit lower...
no grab bar possible, cause 1side food bowl...
also: metal perch for stabilizing carrier broke after 1st time use (inside screw came out), but managed to hammer it back in...
anyway, main thing: my macaw LOVES it!

Best B&G Macaw Carrier

Posted by Gina on 15th Dec 2017

My blue & gold macaw absolutely loves her new carrier. I travel a lot for work and needed something my Macaw felt safe and comfortable in. She's usually skittish about, well, most everthing. But when I put her carrier together and got her close she climbed right in. I also opted for the fleece cover and it was the best decision I made. Keeps it nice and warm as well as dark in her carrier so she gets a good night sleep. Thank you so much for making something specifically for my bird. It's worth every single penny. Thank you.

Excellent travel cage for Macaw

Posted by Jon on 24th Nov 2017

I have had this cage for only about a week. First of all the attention to detail is impressive-how it is constructed, places for cups, toys, perches just where the bird wants them (materials are really high quality, zippers etc are all really well constructed). The cage is working out really well (which is an understatement), Darwin (B&G Macaw) steps right into it (he was a little wary of it the first time or two though). Now he loves going places-for the first time he can ride with the top down in a convertible, visit the ocean cliffs safely, trips to the woods and so on. We have had a travel cage before but was always challenging to coax him into it. So far, he so looks forward to going somewhere, that he steps right into it. The cage is great for him and for us!

My Parrot loves it...

Posted by David Strohmeyer on 24th Jul 2016

I have always wanted to be able to take my Blue Green Macaw along for rides and to Petco, with this traveling bag I now do as often as I can. He was a little temperamental about getting in and staying in at first but once we took our first trip out he was hooked. Now he gets excited when he sees the bag and gives little to no problems getting in (depends on if he feels up to it). I like my Celltei pak-o-bird very much, I did not like the price. I think it is very pricey for the bag and probably would not buy another. It was an investment for my Parrots future traveling.
Customers also viewed
Sign up to our newsletter