Custom Made for a 32 lbs Corgi for scooter ride
Base Model and Size: Backpack-o-pet - large
Material & Trims: 1680 Denier Nylon
Lining & Mesh: Black with black netted mesh
Reference Model: PH003
Modifications:
0) Hand-cut fee:
1) Change two dimension to 34"L x 11.5" W x 14" H
2) Add four set of D-rings for strapping - possible future use
3) extra length on backpack strap to allow dropping down to passenger seat
4) add waterproof zipper to the top opening
5) Add reflective strap to the front
Begin with:
I own a Cardigan Welsh Corgi that ways about 32 LBS. I am looking for a backpack that I can put her in for short rides on my motor scooter. I was wondering if you could make some recommendations among your product offerings.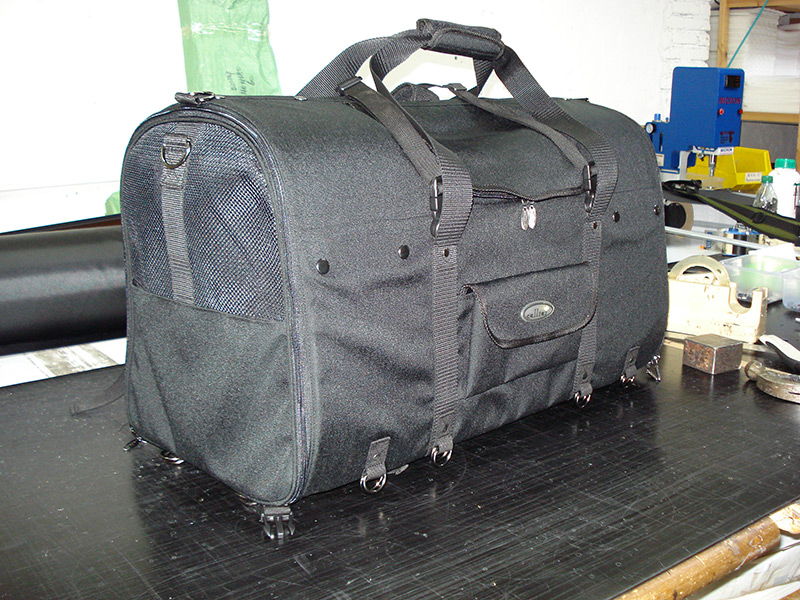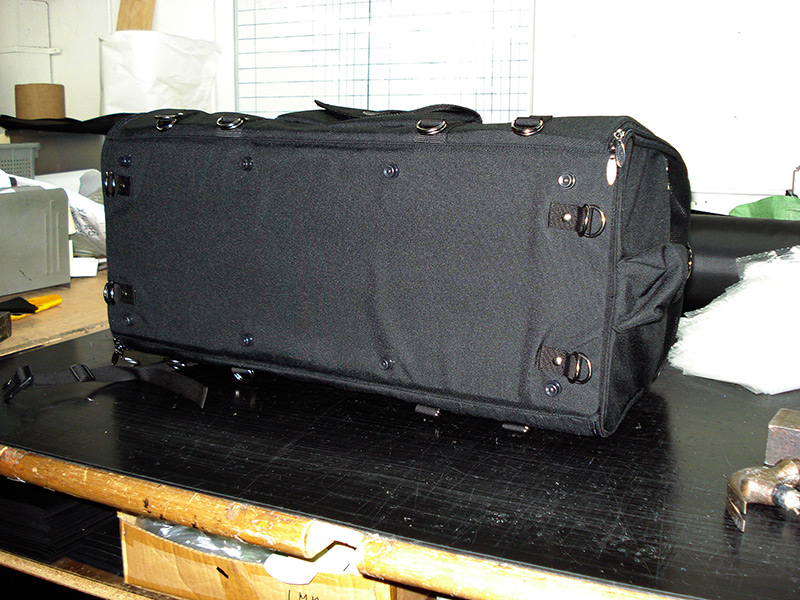 We can have one made to size and add some double D-rings for you to strap the carrier to the scooter. We have recently made one for a larger dog with the dimension 28" L x 13" W x 15"H
For Corgi, perhaps 26" L is long enough with a shorter height as well. You can find or create a box to see how your Corgi fits into the space and decide. Please give it some thoughts and feel free to email us again.
I don't want to attach the container to the scooter, I want to wear it is a backpack. I think I would prefer them to be perpendicular to the area the dog goes in so that she can lie down while she is being carried on my back.
Is it possible to get the bag in a high-viz yellow or orange? And as I live in Seattle, is there any kind of weather proofing or water resistance?
We have the gold color used for our bird carrier. The best way to see the color is to see the youtube video customers placed as monitor setting may alter the color you see. The surface material is 1680D nylon with PU coating. Water can still sip through the zipper and seams after a while. We could use water proof zipper.
If you can find or create a box to see how the dog fits inside to determine the size, we can get more accurate measurement this way.
The bag will have to be 34 inches long, 11 inches wide and 14 inches high.
The dog will not be able to turn around inside so the dog will have to see outside from one side. I also think you do want to have a way to lower the backpack strap so that the weight will rest on something. Otherwise, carrying nearly 40lbs (including the weight of the carrier) for an extended period of time can be tiresome on your shoulder/neck muscles.
We can add a few double D-rings so that you can use a strap to tie and secure the carrier to a seat or something. The double D-ring allows you to tighten but you still need to tie the strap up.
Customers Also Viewed