"A customer has made a very detailed video about the set up and how her green cheeked conure adapts to the carrier. Thank you!"
(Courtesy link to the Youtube video)
"Little Melvyn, a Brown Headed Parrot, laughing on his bike ride"
(Photo courtesy of Theresa S.)
Dimension
(L x W x H):
13 x 10 x 14 inches
(33.0 x 25.4 x 35.6 cm)
Weight:
3.6 lbs (1.63 kg)
Accessories Weight:
Two Stainless Steel cups 11 oz (0.31 kg)
One Dragon Wood Perch 5 to 10 oz (0.14 to 0.28 kg)
Perch/Bar Positions:
1.5", 4", 6" and 8" above floor
(3.8 cm, 10.1 cm, 15.2 cm and 20.3 cm above floor)
Cup Position:
8" (20.3 cm) above floor toward the front
Water Bottle/Treat hole Position:
8" (20.3 cm) above floor toward the back on one side only (

Water bottle is sold separately

)
Surface Fabric:
1680-Denier Nylon
Lining:
Grey color Nylon
Mesh Type:
Stainless Steel
Trims:
Black color; reflective tape in silver/white color
Detachable Parts Included:

One pair of front/backpack strap 8 oz (0.23 kg)
One shoulder strap 3 oz (0.09 kg)
One pair of plastic support panels 4 oz (0.11 kg)
One detachable plastic floor panel 2 oz (0.06 kg)
Two 5 oz stainless steel cups 5 oz (0.14 kg)
One dragon wood perch 5 to 10 oz (0.14 to 0.28 kg)
(Standard size included is around 0.75" or 1.91 cm diameter)
Roof support bar 1.5 oz (0.05 kg)

New from Dec 2021
Manufactured

Made in USA

(Brooklyn, NY)
Material Sources
Most materials are sourced from US suppliers. Countries of Origin include USA, Canada, Taiwan, China, Turkey and India.
Warranty
One year warranty that covers all manufactured parts and pieces but NOT any damage inflicted by the pets, such as tearing, staining or chewing and, wear and tear from normal use.
Regular Care
Do not bend the stainless steel mesh and keep it smooth to avoid permanent creases and breakages. Clean regularly, please.
Cleaning

Use COLD WATER ONLY
Fabrics are coated; it is easy to water hose off dropping and crumbs daily
Hand wash with bird safe cleaning products
Air dry; do not use dryer

U.S. Patent No: D551,810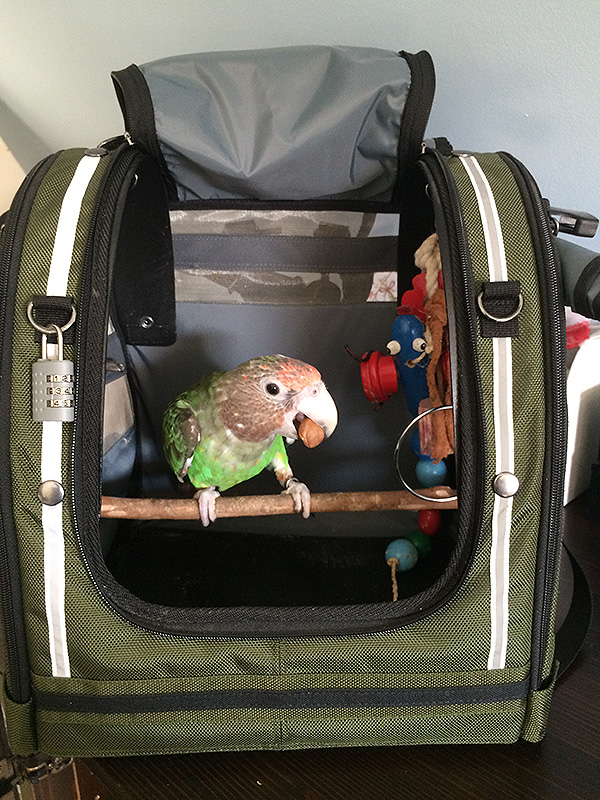 Cape Parrot enjoying its almond
(Photo courtesy of Marsha v. P.)
This small size Pak-o-Bird can be carried comfortably in the front or on your back with the front/backpack strap, or on your shoulder.
It is suitable for most of the conures (sun, green cheeked, cape parrots and more), cockatiels, pionus, Jardines's, Meyers, Senegal parrots etc. Some customers use the small size to carry two small birds but some would opt for a medium size to give them more room. Similarly, if you plan on using the carrier as a mobile cage for long or overnight trips, use the medium size to add toys, tent and other accessories to keep the bird busy. See How to Choose for more information.
Knowing Your Pak-o-Bird
Materials/Colors Both the surface material and lining are made of 100% nylon with polyurethane coating on both sides. They are strong synthetic fabrics with water repellent property. The surface material is a high denier luggage grade fabric for better wear and tear. Our stock colors are olive green and gold, both were tested by birds as acceptable colors. If you have a super skittish bird, try the olive green color.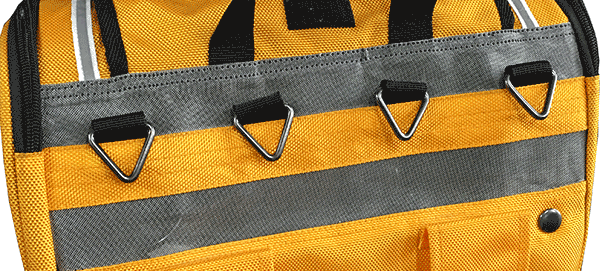 The "Skylight"
Mesh
All birds pick and many chew. Beginning late 2015, we only make the carrier with stainless steel mesh. Nylon mesh is a customization option.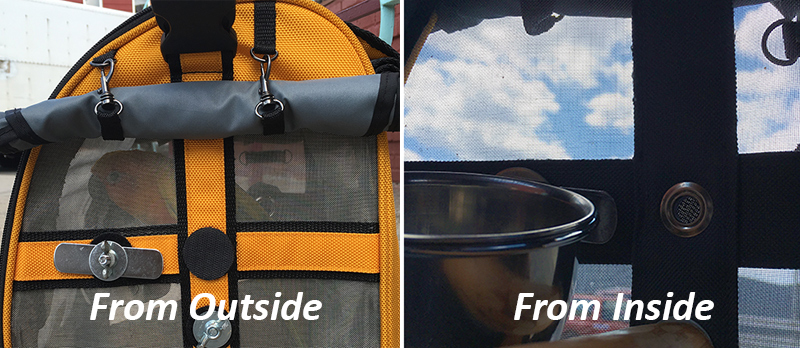 Mesh Visibility

Ventilation and Visibility Pak-o-Bird has a large mesh area on three sides, two "skylight" strips on most sizes or another large mesh area on larger sizes in the back . A dense stainless steel mesh is mosquitoes proof and for handling some amount of bird picking and chewing. It has 54.8% opening, offering good ventilation and visibility.
Privacy Except for the two skylight strips, Pak-o-Bird can be covered completely by lowering the side curtains and the front window flap.
Carrying Method Pak-o-Bird can be carried in the front, on the back as well as on the shoulder. Hook the straps onto the middle two triangular rings for backpack or the two outer rings for front carrier.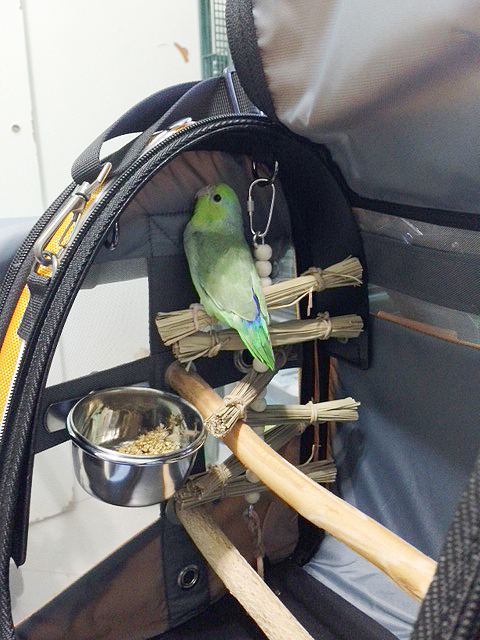 Parrotlet playing inside
(Photo courtesy of Teresa O.)
Entertainment and Chewing Issue Hang a bird toy to the two D-rings on each interior side support panel and tie it in place to the small rings on the floor perpendicular to the D-rings. This may help to keep the bird occupied and from chewing the carrier. For big chewers, add the wide panel set to cover the carrier's front mesh zipper and seam.
Food and Water Each Pak-o-Bird comes with two 5-oz. stainless steel cups for food and water. A large grommet is added on one side for inserting the dispensing valve of a water bottle strapped from the outside.
Cleaning and Storage The carrier can be unzipped and open up flat for a complete cleaning and storage. For daily cleaning, you can simply open up the bottom without the need to take out any attaching pieces.
Safety Features Two loops in the back allow the Pak-o-Bird to be strapped to a car seat belt. All zippers have an auto-lock device to prevent accidental escape. Two reflective strips on the carrier allow it to be visible at night.
Structure A pair of semi-rigid plastic panels provide the central support. They are attached by snap buttons and velcro strips from the lower front over the roof to the upper back of the carrier. Additional plastic and aluminum inserts are added inside in strategic areas to hold up the carrier.
Maintenance Plastic warps with weight over time. When the carrier is not in use, unzip the entire carrier, detach the support panels and store it in a flat configuration. Please note that creases created in the stainless steel mesh are not reversible, try to roll the mesh smoothly and avoid bending it.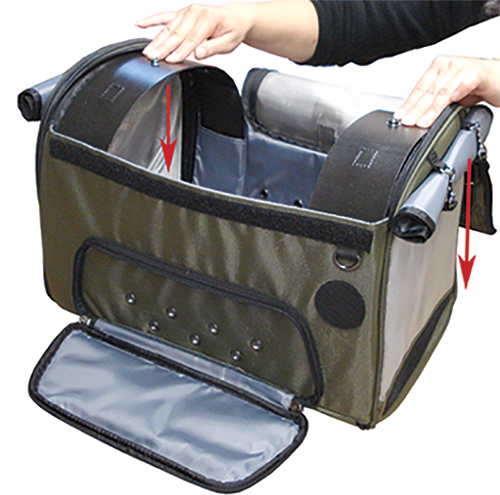 Compressible Airline Carrier

Compressibility and In-Cabin Airline Travel Check out our In-Cabin Airline Carrier. Remember to check with the airline first as not all airlines accept birds. Each airline has their specific dimensional requirements. We design the Airline Bird Carrier to meet the airlines' requirements. Its sturdy but flexible support structure allow the carrier to be compressed downward to maximize the various height available underneath the airplane seat, usually about 9" to 12" depends upon the plane model. A folded tail pouch can be extended for extra tail room if needed. For long trips, put in sufficient food and dispense water from the strap water bottle strapped in the outside.
Outsmarting the bird? Repair Service We must say that we have not out-smarted the birds and doubt if we ever can. As the birds observe what we do, try to park the zipper up high as the birds are not likely to arch backward trying to open the carrier to come to you. We saw a lot of chewing around the lower center front opening where we tend to park the zipper. Another Common area that birds pick on are inside strip near the cups. This damage does not affect the structural integrity of the carrier. We do offer repairs for a modest fee.
We will continue to incorporate your feedback and make improvements when new materials and processes become feasible.
Thank you for your pictures & comments!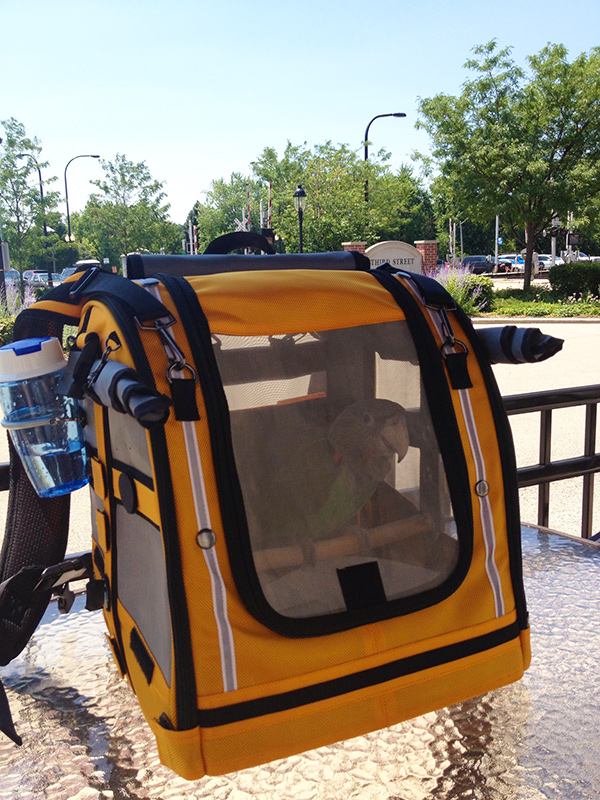 :
Perry, a Smiling Caped Parrot
He loved it, and we even had a police officer stop and comment on the carrier. Thanks again for great service, and a great product.
... Jennifer B. (July 2013)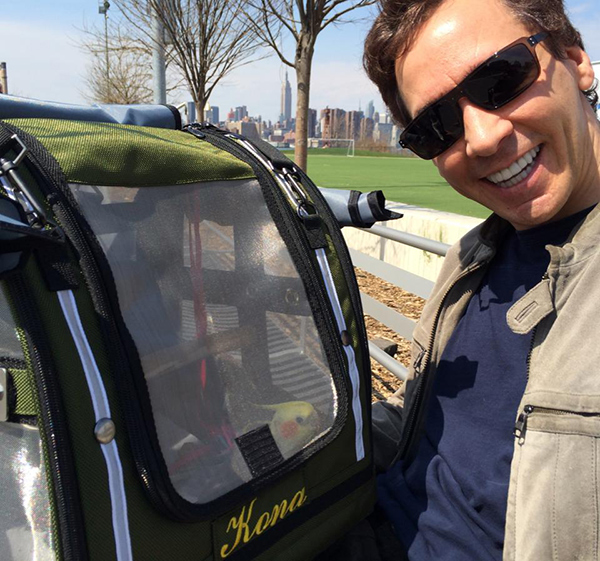 :
Kona, a Cockatiel, going for a motorcycle ride
Thanks, Kona is getting to used to it already!
... Tanju C (April 2014)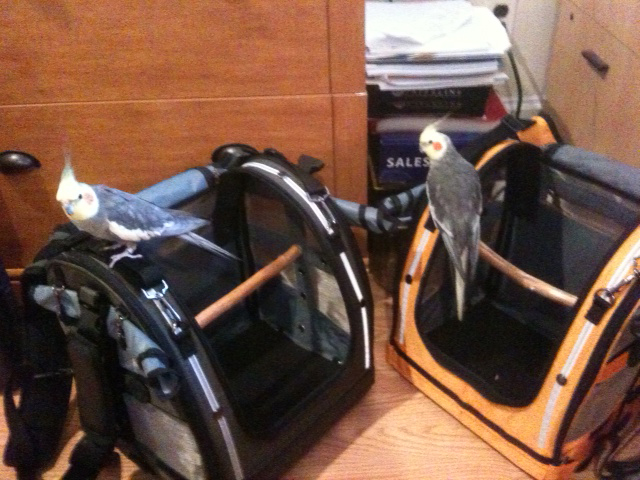 :
Happy Ringto and Lennon
Ringo and Lennon couldn't be happier :) they even picked out the who got what color already... So far, it has been amazing. Thank you!
... Denny C. (Feb. 2011)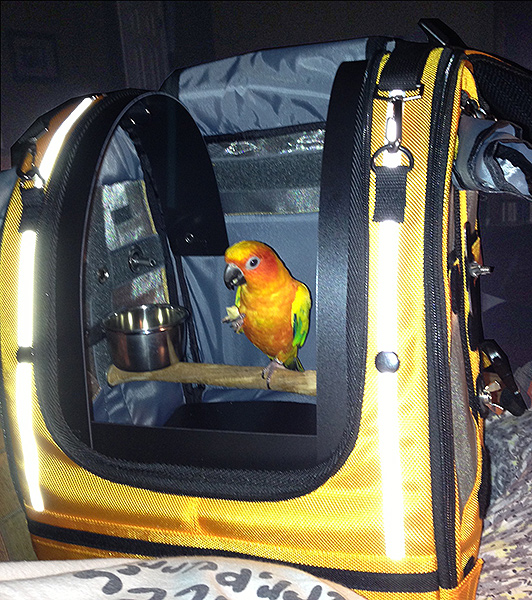 :
Squirt enjoying her treats
We are very pleased. . It is very well constructed with nice touch. I am so excited to be able to walk around the neighborhood with my bird.
...Angela S. (May 2013)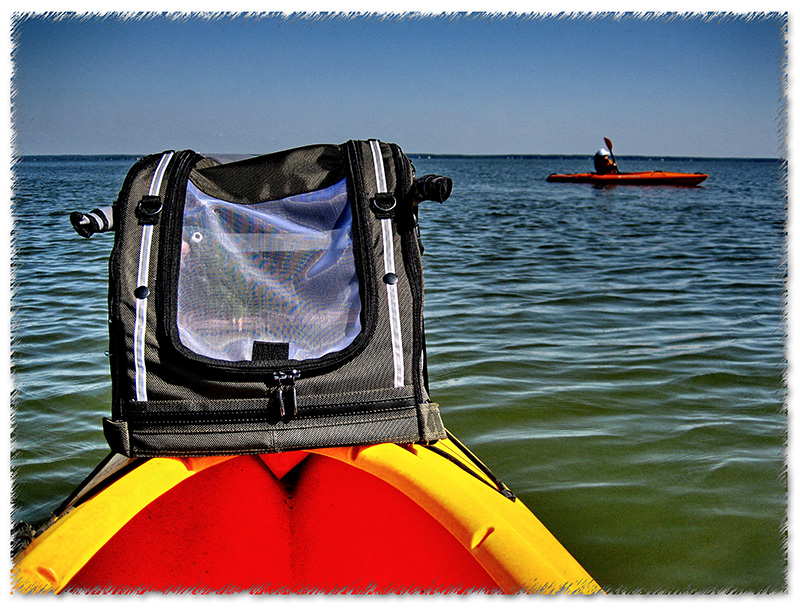 :
First Matey Missy is in charge!
Our green cheeked conure Missy is steering in the ocean!
... Linda W. (Sept. 2012)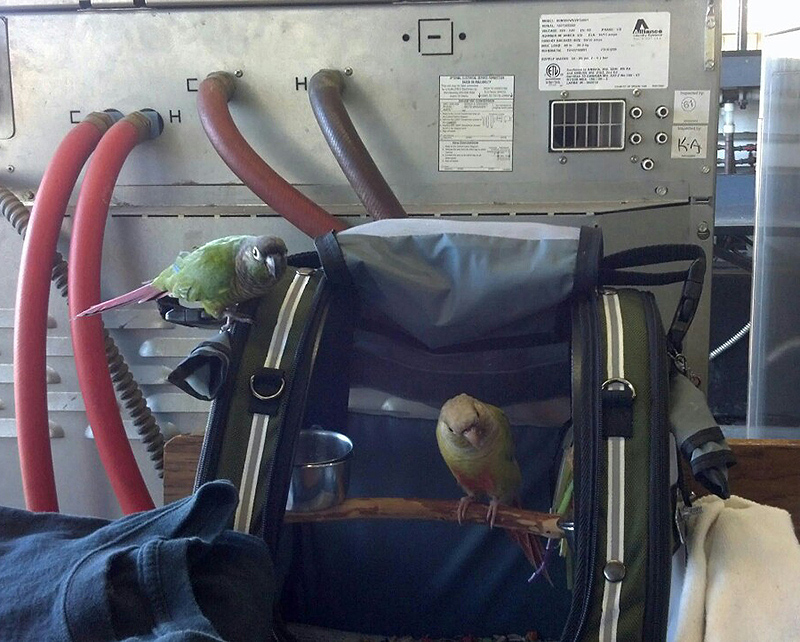 :
Two happy Green Cheeked Conures in Hawaii
Here are the boys enjoying their Christmas present!
... Mike A. (April 2014)
Customers Also Viewed