Patti's Digit
First Bird Tray
What is Macaw
First Pak-o-Bird
Birdie Pouch
Birdie GOGO
Yes You Can!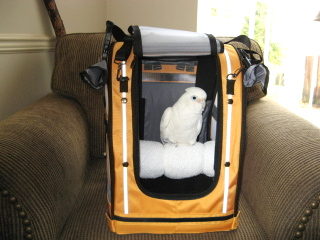 "I have a 12 year old disabled Goffin Cockatoo named Digit. Digit was rescued from a horrific situation and breeder in Washington State. Digit was born with deformed feet, one backwards, the other webbed which makes it impossible for Digit to exist like a normal bird would. When I rescued Digit from the breeder, Digit was running around a dirt covered floor, totally brown in color and at the mercy of large breed birds, little chance of surviving.

I have always tried to make his life a happy one, as close to allowing him to be a bird as possible. Digit has to live in a cage where all surfaces are totally padded to protect his leg with the backwards foot. I looked for a carrier that Digit could use and found this carrier. Although the perch had to be padded with many towels, this is the first carrier that Digit felt comfortable in and didn't panic when being put in it. I believe its because Digit can see out in numerous directions, the design makes for alot of room for Digit at nightime for his padded bed surface just by removing the perch with ease,We use this carrier everytime we go to our camper, and though Digit has a cage already up there, at the time to go to bed, Digit prefers to sleep in the carrier, thanks for the great design and thought you put into creating this product."
There are no products listed under this category.