A Quick and Easy Front Carrying Bird Carrier
| | |
| --- | --- |
| Special Made for: | An African Grey with a new front carrying "Quick and Easy" carrier |
| Base Model & Size: | Birdie GoGo Medium Size |
| Material & Trims: | Cordura® Black Color |
| Lining & Mesh: | Grey with Stainless Steel Mesh |
Modifications:
Change material to Cordura Black
Add Reflective Strip to sides
Add six more grommet holes: top and bottom sides, one more above existing holes
Add a shoulder strap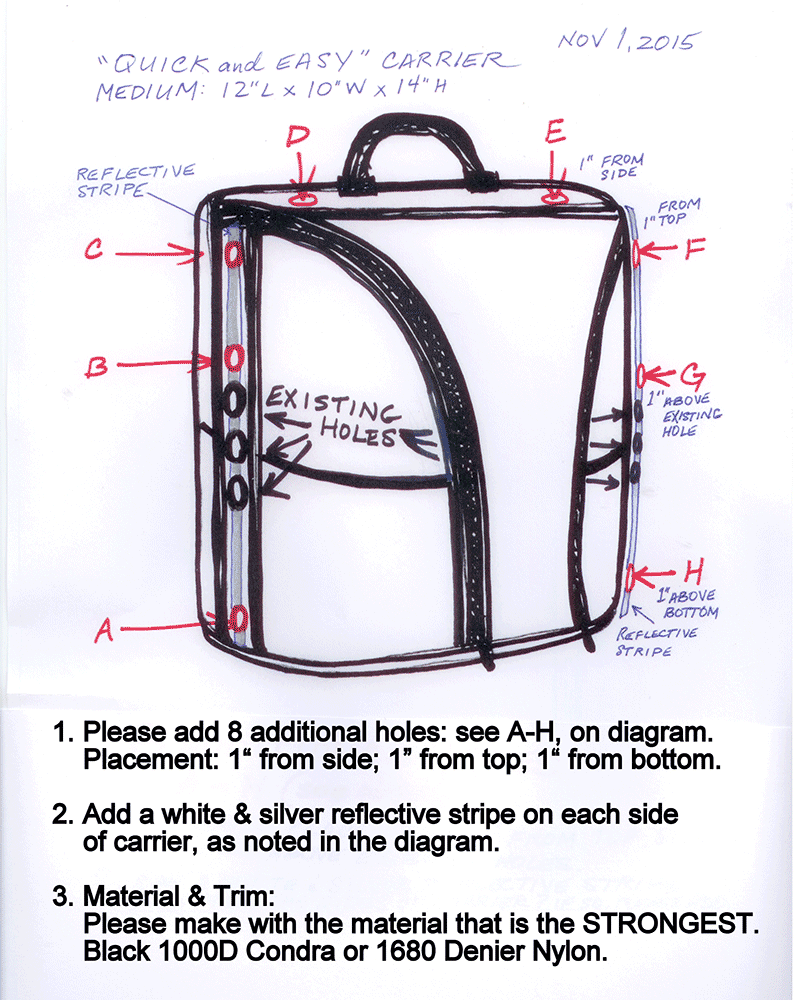 Diagram of Request Changes
(Photo courtesy of Brianne C. of California)
Date Completed: November 2015
Brianne had purchased several items from us for her Congo Grey who loves his airline and Pak-o-bird backpack carriers. She was looking for a quick access design when the bigger Pak-o-Bird becomes too cumbersome for her sometimes. She had spine surgery with subsequent neck issues and needed a smaller quicker carrier for shorter distances. Based on pictures of the Birdie GoGo prototype, Brianne emailed us a diagram of changes she wanted to add. She is 5'3" tall and weighs about 120 lbs. and needed the strap that matched her statue.
We discussed the purpose of the changes and incorporated most of the requests. Beginning mid August 2016, we have added D-ring on top for hanging bird toys.
Customers Also Viewed