George G. Harris Wildlife Collection
First Bird Tray
What is Macaw
First Pak-o-Bird
Birdie Pouch
Birdie GOGO
Yes You Can!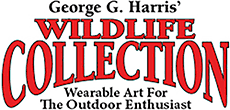 We met George G. Harris at the very first pet industry trade show we attended in 2001. Their booth was next to ours. We were fascinated by the number and variety of designs. Over 30 years, George has sculptured more than 2500 designs of diverse wildlife and animal subjects. Each piece is accurate, well made and offers great details.
George's interest in wildlife was firmly established at an early age through countless visits to museums, zoos, hiking and fishing trip and by keeping all sorts of pets. His appreciation was further enhanced while earning degrees in Biology and Natural Resource Conservation.
Since 1984, he sculpts each original design at actual size and then make precision molds from them, capturing even the finest details. The work is cast in lead-free Fine Pewter, a jeweler's alloy which maintains its antiqued look indefinitely. Some designs are further plated with 24K Gold or hand-painted by another renowned wildlife painter/artist Michele Kortbawi Wiki. Michele's meticulous acrylic painting is sealed with a durable gloss coat to create an especially striking piece of wearable art.
We are glad to present a selection of George's work here. Enjoy!