"Sundae, the Agility Dog "
Expandable Open Top Backpack Airline Carrier with good Ventilation
| | |
| --- | --- |
| Special Made for: | Sundae, a 14-15 lbs Border Collie & Rat Terrier Mix Dog |
| Base Model & Size: | Backpack-o-Pet - medium |
| Material & Trims: | Cordura ® Old Navy color |
| Lining & Mesh: | Grey interior lining with black netted mesh |
Modifications:
Add Hand-Cut Fee
Change two base dimension to 18" L x 12" W x 12" H
Change structure to have a top zipper opening with cover
- have the velcro closure covered the full length
- add velcro on the cover underside to enable the cover to be rolled up tightly

"Sundae on the plane"
(Photo courtesy of Angie B.)

Add a 6" expandable
Add mesh areas with draped down cover in center front and back
Full mesh on the door side (waived)
Side pocket with zipper closure (waived)
Keep water bottle holder (waived)
Double zipper heads on both sides (waived)
Date Completed: August 2016
Begin With:
I'm interested in possibly designing a custom carrier for my terrier mix to fly in. I would like a backpack style that I can carry her around so she doesn't get too heavy on my shoulder. She is 14-15 lbs.
For a 14-15 terrier mix, you probably does not need to customize. A standard medium and at most a large size would be sufficient. Is there a size limit you need to comply with?
I usually fly delta (with my toy breed) which isn't too picky. But I will be flying southwest on our next flight with this dog and possibly other airlines in the future. She may not weight much...but she is half border collie and so is very long - which is why I thought an expansion might be a good choice. And she will hopefully be having long trips in her future. What kind of options are there for adding a bit more mesh for ventilation?
Because the expandable portion does take up about 0.75", we keep the length at 18" to stay within the 18.5" limit and added more mesh areas and with the detachable backpack strap. As Angie is right handed, various openings are positioned based on the dog's perspective and the most convenient way for the person. With the bag on the person's right side, the top opening is unzipped from the front toward the back. With the dog's head expected to be toward the front, all rolled up materials will be out of her way.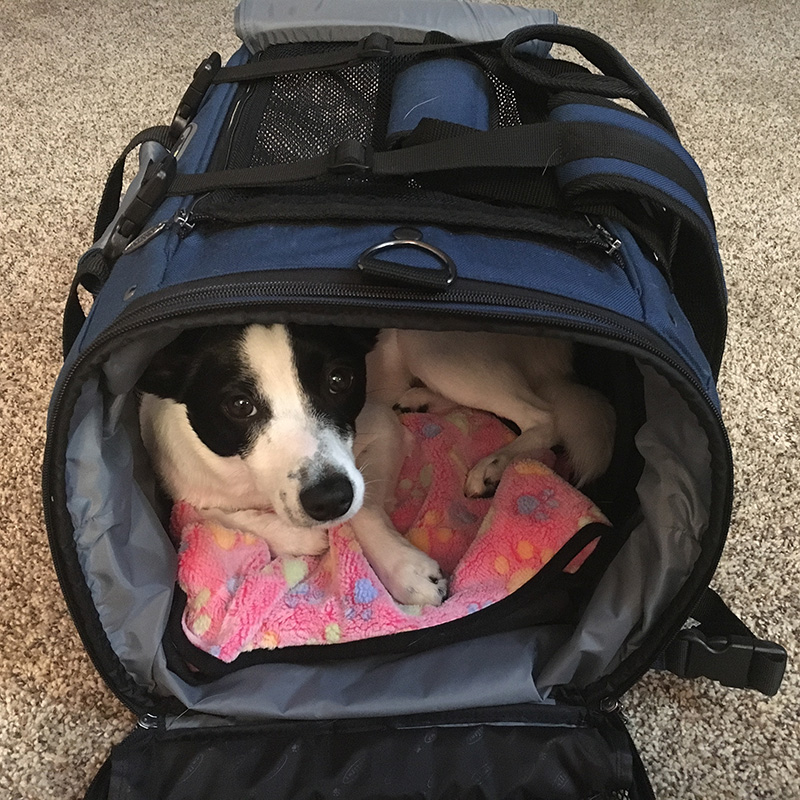 (After receiving and using the bag once, Angie sent it back and made one change to have whole right and the whole left side will swap. ) So the full mesh side - with door - and expansion will be on the right. Sundae gets in and turns around and always faces the door. I would like her to face the side with the most airflow which is the full mesh (its ok if she faces some bunched up material - there really isn't much). This way, I can carry the bag on my right shoulder and the door/expansion/full mesh will face forward (which is the side she will face). Also, this would make it so the top opening will be velcroed/zipped closed at the full mesh end and unzip towards the half mesh/pock end.
We charged a small fee to make this change for her.
End With:
I got my carrier today... it is absolutely perfect! Thank you so much!
Here are a few pics of Sundae in it - curled up and stretched out.
A few days later: Sundae's first set of flights went great (4 of them)! She had plenty of room even without the expansion open :)
Angie B.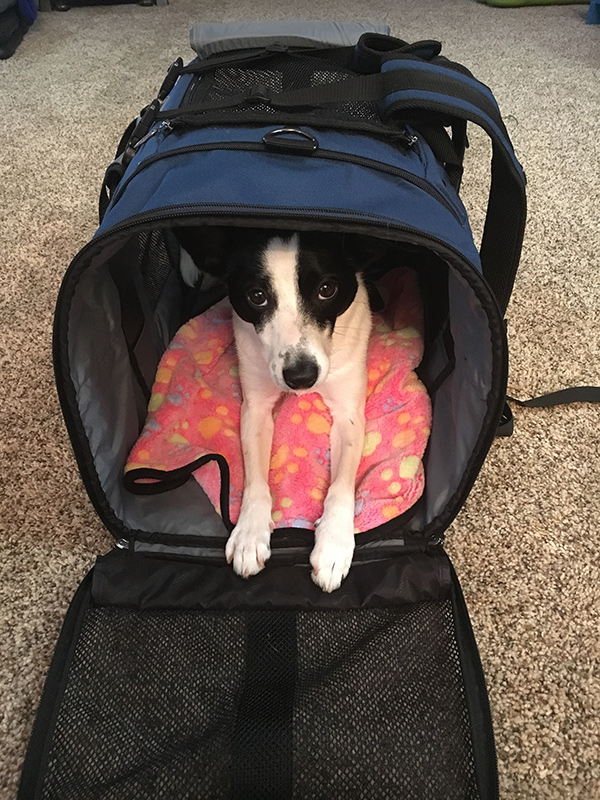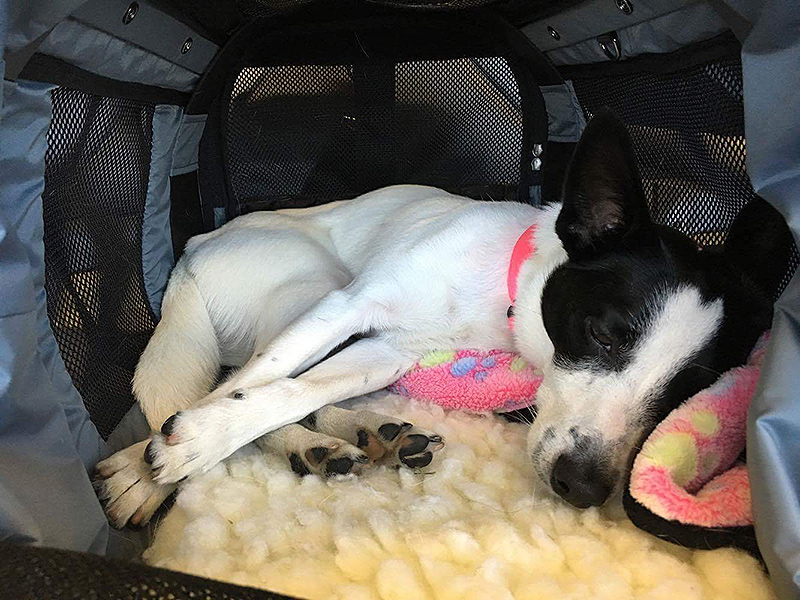 (Photo courtesy of Angie B.)
Thank you for your pictures & comments!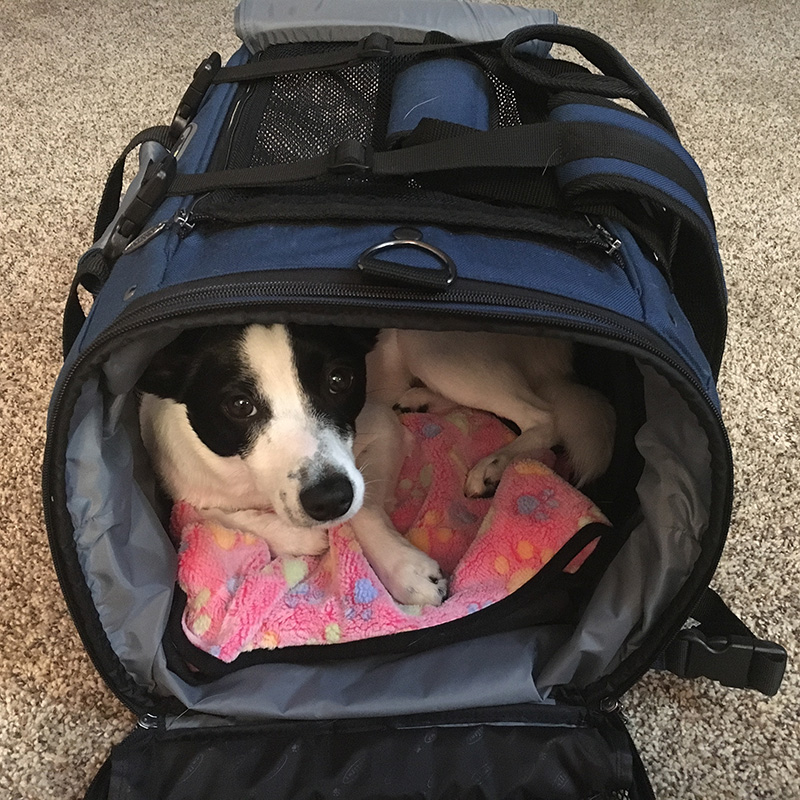 :
Sundae curled up inside her new Celltei
I got my carrier today... it is absolutely perfect!
... Angie B. (August 2016)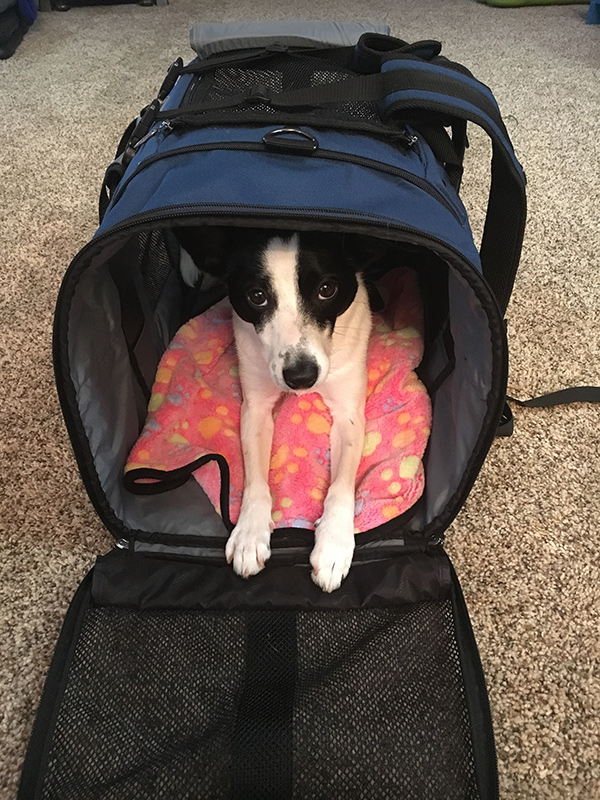 :
Sundae stretched out inside her new Celltei
There are enough room for her to stretch out.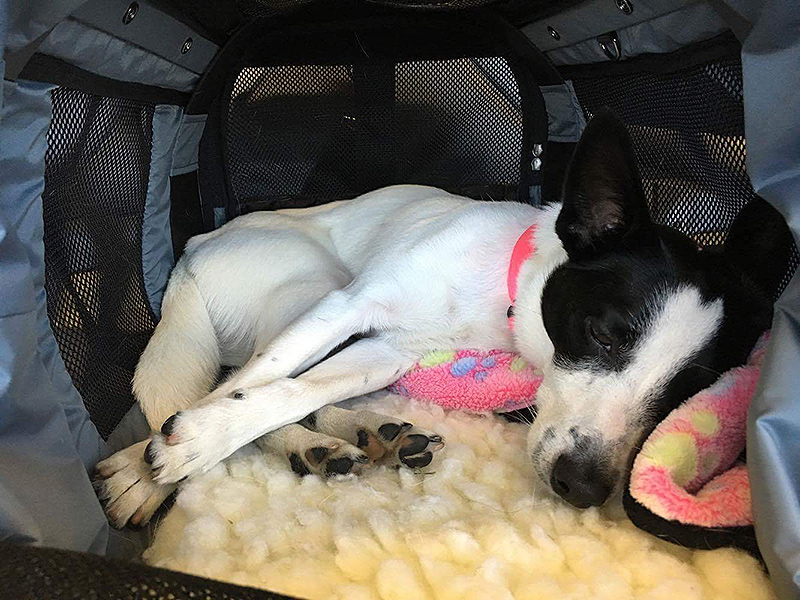 :
Sundae comfortably resting on the flights
Sundae's first set of flights went great (4 of them)! She had plenty of room even without the expansion open :)

... Angie B. (September 2016)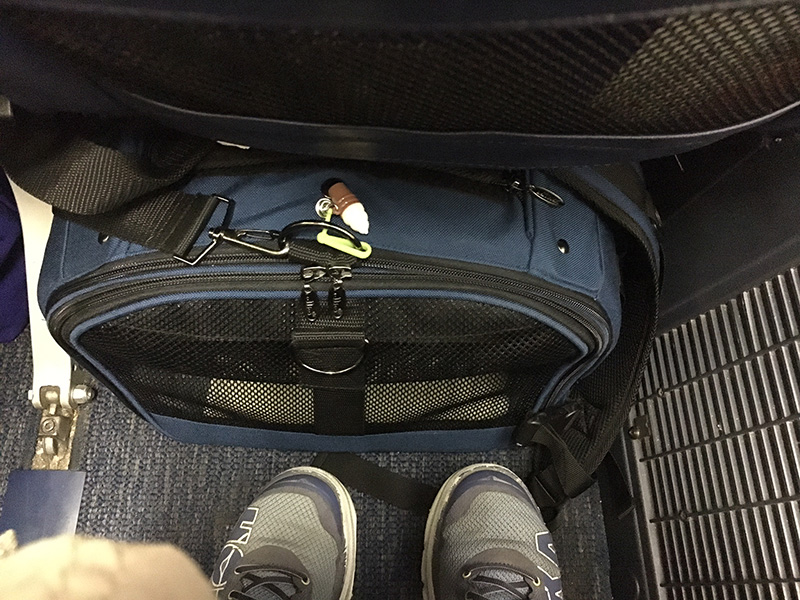 :
Sundae being placed underneath the airplane seat
Sundae's carrier fits perfectly underneath the airplane seat.
Customers Also Viewed