"A very loved Shiba Inu girl Tokyo
traveling in 2015"
"Tokyo dashing around the world in 2014"
(Photo courtesy of Yvonne W. of California)
Expandable Open Top Airline Backpack Carrier
| | |
| --- | --- |
| Special Made for: | Tokyo, a 17 lbs Shiba Inu |
| Base Model & Size: | Backpack-o-Pet - medium |
| Material & Trims: | 1680 Denier Nylon - Olive Green color |
| Lining & Mesh: | Khaki interior lining with green camouflage smooth mesh |
Modifications:
Change two dimensions to 19" L x 11.5" W x 11.5" H
Change structure to have a large top zipper opening, as large as possible. The top opening just needs to have 1 zippered cover in mesh. The roof support panel will go from bottom to bottom for vertical support of 2.5" wide and removable. The approximate open area is 9" x 16".
Add 5" expandable back extension with a mesh window area on the back extension
Make one side of bag full fine camo mesh; the other side should remain top half fine camo mesh with bottom fabric Olive 1680 denier
No front pocket (so the entire bag will have only one zipper pocket on the side
Remove side external water bottle holder
No cellphone pouch
Detachable backpack straps and shoulder strap
Fluffy floor pad also cover the extended area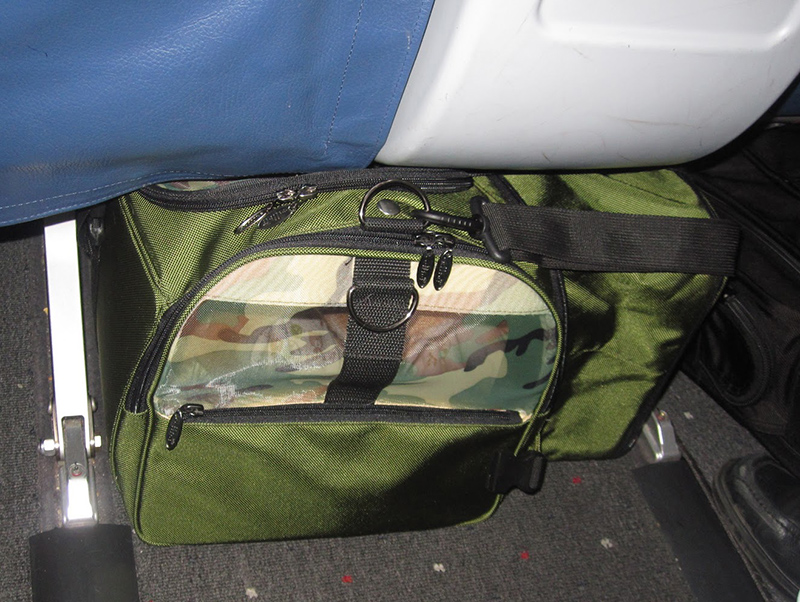 Tokyo stays underneath airplane seat
inside her Celltei carrier
Date Completed: October 2011
Begin with:
I am looking for a custom made bag for my 17 lb. Shiba Inu and I happily found your website. We travel throughout the year via airplane, often on cross country flights, and I need a bag that is comfortably large enough for our dog, but compressible to be able to fit under the airplane seats as required.
Having the lightest weight bag possible is of utmost importance, as she gets quite heavy when carrying her through the airport. I also want to maximize the space for the dog, but keep the "trimmest" exterior look as possible- minimized external pockets, straps, etc. On your website, I saw some bags with expansion on one side, and I think that could be a great option to expand the bag in the airport when not in the take-off/landing mode.
I didn't see any bags that had a large opening at the top for the dog to "jump" into the bag that way- but that would be preferable for my dog. Is that possible?
I'm not sure about overall size yet, she is a "leggy" dog. Maybe 19" long x 13" high x 13" wide. If I understand correctly, the top height of the bag will compress to be able to fit under airline seats, right?
Some goals/ideas:

Large full zipper top opening- so dog can jump in from the top of the bag
Extra light weight design/ construction
Minimize any external bulk to shape- no external flap pockets, cell phone holder, etc.
Maximize ventilation/mesh- around upper sides, on top...as much as possible.
Expansion on one side- I'm thinking 4" Light color interior- beige?
I appreciate any assistance and any advice you can give me. Please let me know how to proceed." ... Yvonne
End with: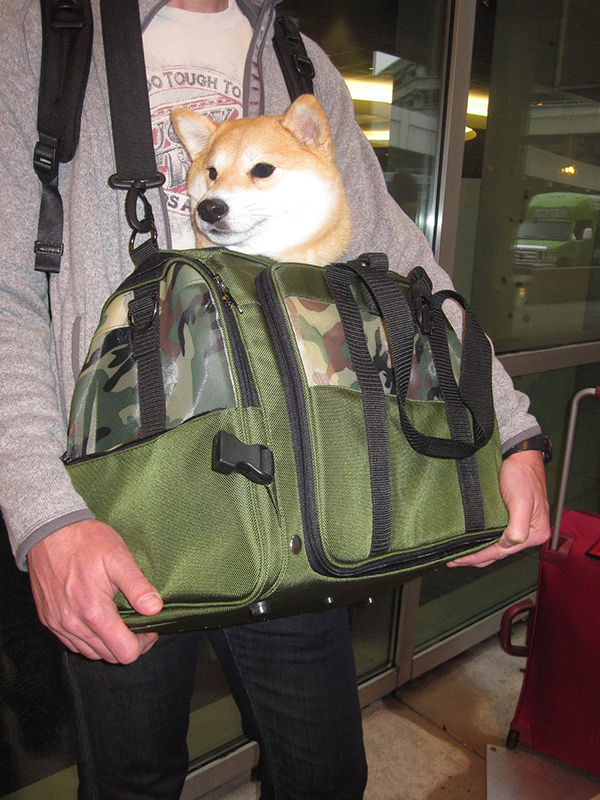 Tokyo tried out her new Celltei back in 2011
Yvoone emailed us pictures and provided more details about her flying experience in Tokyo's blog. It is amazing all the places Tokyo has been to. What a loved Shiba Ina! Check out Tokyo blog:
http://www.tokyoshiba.com
The size looks good. Tokyo jumped in like a pro, no problems at all with the top opening. We unzipped the expander and she had a nice space to curl up. She should be much comfier on the longer flights now.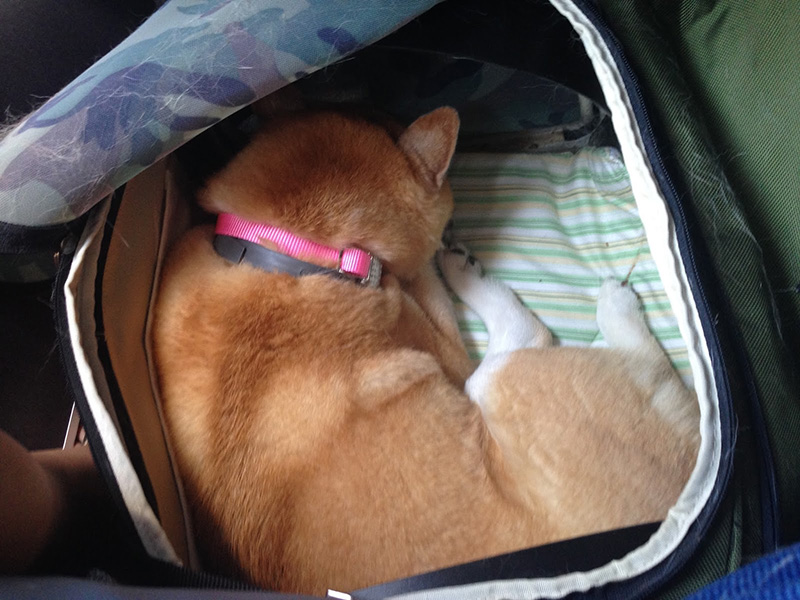 Tokyo sleeping on the trip
The opening is plenty big, I don't think we will need to do any trimming of the support panels at all. Tokyo jumped in and out with ease. Much better than the narrower Sherpa opening. I really like how flexible the support panels are. I think they will compress under the airplane seat really well. Thank you very much! ... Yvonne
(Photo courtesy of Yvonne W.)
Customers Also Viewed