Elephant ride with my dog (2006 Winner)
First Bird Tray
What is Macaw
First Pak-o-Bird
Birdie Pouch
Birdie GOGO
Yes You Can!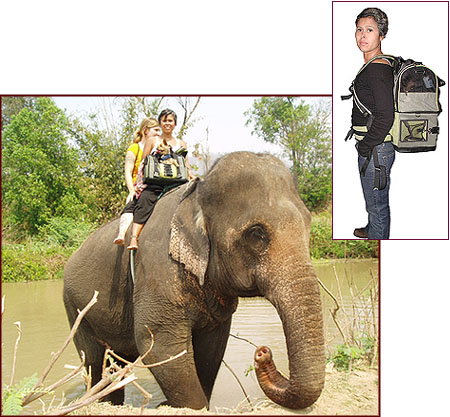 Nury visited our shop with Nochi before their 1-month trip to Asia (visiting countries including Thailand and Cambodia). She likes our Traveler Backpak-o-pet idea but needed a bigger storage area. Here are the modification to a small size Traveler Pak-o-Pet: 1. Reduce the backpack strap length by 4" - Nury is a petite person and found the current strap a bit too loose for her even when the straps are tightened to the shortest length.
2. Reduce the height of the pet carrier by 1" while increase the bottom compartment by 2". So the total height of the entire backpack is only increased by 1" The modified Traveler Backpak-o-pet was put to good use and the elephant seems to be very pleased with the unusal passenger. "... thank you so much for your help and back packing in Thailand with little nochi was awesome."
There are no products listed under this category.