Parrot Pockets
First Bird Tray
What is Macaw
First Pak-o-Bird
Birdie Pouch
Birdie GOGO
Yes You Can!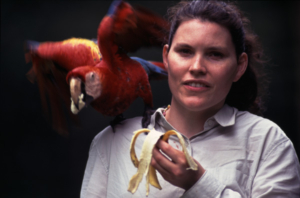 "This is Molly"
(Photo courtesy of Molly's Bird Toys)
Parrot Pocket® is hand made by Debbie Goodrich, aka the Parrot Lady. We first met Debbie at the first American Federation of Aviculture event in 2013.
Debbie has extensive experiences with parrots for over 11 years. She first started her interest in professional training when she attended the University of California at Santa Cruz. There, she got her Bachelor's degree in Psycho-biology--emphasizing Animal Cognition and Behavior. During her work at the University, she was specially selected to observe elephant seal behavior. She also wrote an extensive essay on Dolphin Reintroductions which received honors as her graduation requirement.
Her professional work began with Rainforest Cafe where she was quickly promoted to a Curatorial position in Seattle. There, she established relationships with AZA accredited facilities such as Point Defiance Zoo and Aquarium, Seattle Aquarium and Woodland Park Zoo. She is a professional member of IAATE (International Avian Animal Trainers and Educators), an associate member of IMATA (International Marine Animal Trainers Association) and has donated to such causes as the World Parrot Trust and the World Wildlife Fund.
Debbie cares about parrots and wildlife deeply. From educational visits, free flight excursions to meet and greets social events, she is passionate of what she does. You can see her flock at her site: Oly, the Greenwing Macaw, Jesse, the Blue and Gold Macaw, Cassie, the Black-capped Cqique, Chloe, the Blue crowned conure, Sunny, the Solomon Island Eclectus, and Echo, the Congo African Grey.